You are here
2020 CAS - Computer Science Standards Introduction
---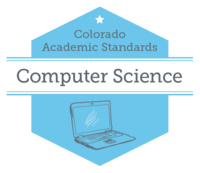 On This Page
Prepared Graduates in Computer Science
Standards Online
---
Purpose of Computer Science
"We want students to understand what a computer can do, what a human can do, and why that's different." - Mark Guzdial, Professor of Computing, Georgia Tech
Colorado's economic vitality would greatly benefit from the implementation of comprehensive K-12 computer science education. There are literally thousands of computer science jobs in Colorado and only hundreds of Colorado college graduates to fill those positions. Additionally, Frey and Osborne (2013) estimate that 47% of current employment in all sectors of the economy will be replaced by technology in 10 to 20 years. Professionals in all disciplines will be more successful with knowledge and skills in computer science. Citizens will make more informed choices with foundational understanding of computer science. Students have been learning how to use computers for many years (digital literacy), computer science is a discipline in which students explore foundational concepts related to creating hardware, software, programming, and user interfaces. We owe it to students to prepare them adequately for future employment.
The creation of high school computer science standards in response to House Bill 16-1198 began in April 2017. After listening to focus groups around the state of Colorado and examining a professional review of national computer science standards, a volunteer citizen committee made up of professional computer science teachers, higher education professors, and private sector professionals designed the voluntary Colorado high school computer science standards. The committee used national standards from the Computer Science Teachers Association, the K12 Computer Science Framework, and other state computer science standards as references.
As practicing computer science educators, the committee sought to minimize the bulk of standards by concentrating them into three major areas. Colorado Essential Skills, replacing the 21st Century Skills, were used to augment and concentrate the computer science standards. Collaboration and communication are essential in the computer science classroom and in the private sector. However, the committee was careful to write standards that guided content and not instruction.
Even though technology presents educators with a rapidly changing landscape, long-lasting themes in computer science education have persisted and provide a robust foundation of learning. Computational thinking, computing systems and networks, and computer programming provide the bulk of content knowledge in computer science. Additional topics, providing students with opportunities to examine the impact technology has on privacy, communication, and society and exploring creative innovation are embedded in the standards.
The Association for Computing Machinery, or ACM, the premier computer science educational professional organization in the United States, details an entire code of ethics for computer science professionals. The committee has embedded computer science ethics into the three primary grade level expectations. While other national and state standards specifically name impacts on society as a standard, the committee decided that ethical considerations could be applied to curriculum in every standard.
Creativity is an area of human endeavor that is difficult to define, instruct, and assess. The committee recognized that computer science requires aspects of creativity, but was reticent to specifically add creativity as a standard. AP Computer Science Principles lists creativity as one of its seven big ideas. It is the committee's opinion that the inclusion of teaching the design process, among other aspects of computer science instruction, inherently fosters creativity.
Carefully crafted with responsive inclusion from public feedback, the committee presents Colorado's first Computer Science high school standards.
Statute
House Bill 16-1198 requires the State Board of Education to adopt secondary computer science standards that identify the knowledge and skills secondary students should acquire related to computer science, including computer coding, in one or more courses that qualify as a graduation requirement in either mathematics or science. Local education providers may choose to implement the standards adopted. The voluntary nature of the Computer Science standards is different from all other academic standards that are required to be implemented.
---
Prepared Graduates in Computer Science
The Computer Science Standards Committee created eight Prepared Graduate Statements around these three standards. They are:
Develop, utilize, and evaluate algorithms to model and solve problems.
Systematically analyze a problem using decomposition and abstraction to formulate a solution.
Represent, analyze and visualize data in order to generate new knowledge and capability.
Use systems thinking to describe networks and common software and hardware components.
Develop systems solutions from a set of specifications to complete a design process.
Recognize and apply security methodologies to ensure the prevention of exploitation, data protection, and recovery of computing systems following interruption of service.
Design and create programs, individually and collaboratively, for a variety of disciplines.
Create computational artifacts that consider security from tampering, malicious or otherwise.
---
Standards in Computer Science
The Colorado Computer Science High School Standards are voluntary and focused on grades 9-12 as a continuous experience rather than specific grade levels.
Standards are the topical organization of an academic content area. The three standards of computer science are:
Computational Thinking
Includes concepts related to the use of algorithms and data in different ways to generate new knowledge and articulate solutions to real world problems.
Computing Systems and Networks
Includes concepts related to the development and communication between software and hardware, and systems thinking around data protection and recovery.
Computer Programming
Includes concepts related to creating computer programs and applications, working collaboratively to engage in client-based problem solving, and internet security.