You are here
#COHearts2READ: Nov. 11-15, 2019
READ Posters and #COHearts2READ
In honor of National Family Literacy Month in November, the Colorado Department of Education and the Colorado State Library are launching the #COHearts2READ social media campaign to highlight Coloradans' passion for reading. The campaign is focused on encouraging students, teachers, school and library staff and the general public to share why they love to read. The idea is to use the hashtag #COHearts2READ on social media during the week of Nov. 11-15, 2019.
Check out the challenge for each day and participate on any social media site using the hashtag #COHearts2READ​ or follow along on CDE's Facebook and Twitter pages or the Colorado State Library's Facebook and Twitter pages. 
READ Facebook Profile Frame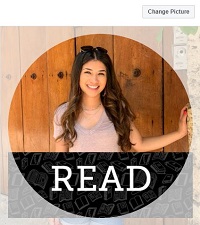 #Bookface
#COHearts2READ week-long social media calendar 
Monday, Nov. 11
Create your own READ poster by updating your Facebook profile photo with this "READ" frame and sharing it on Facebook and Twitter using the hashtag #COHearts2READ.
Tuesday, Nov. 12
Share your favorite book using #COHearts2READ on any social media site. We hear that Calvin and Hobbes comic books by Bill Watterson were Commissioner Katy Anthes' favorites as a young girl.
Wednesday, Nov. 13
Tell us why reading is important to you. Whether reading helped you discover your passion or reading to your kids is your favorite part of the day, share why it's important to you, using #COHearts2READ!
Thursday. Nov. 14
Show us your #bookface. Bring the cover of your favorite book to life by carefully lining up your face alongside the book cover, snap a photo and share it on social media using #COHearts2READ. The top three most creative #bookface social media posts will be featured on CDE's and the State Library's social media pages. 
Friday, Nov. 15
Where do you read Colorado? Show us your favorite places to read, whether it's a quiet spot at your local library, on your porch watching the sunset or during your bus ride into work. Share where you read on social media using the hashtag #COHearts2READ. 
For questions, contact Gladis Gee at gee_g@cde.state.co.us or 303-866-6800. For ways to engage your school, district, library, state agency or organization, visit the #COHearts2READ Campaign Toolkit webpage.