CMAS: How are state test results used in school/district accountability?
---
Colorado's School Accountability System
In 2009, Colorado's legislature passed Senate Bill 163, the "Education Accountability Act of 2009," that created a system to hold the state, its school districts and individual schools accountable for performance on the same set of indicators and measures statewide. Successful schools and districts are recognized, while those whose students struggle are identified and get help.
The system is based on the notion that every student should have an opportunity to receive an excellent education and graduate ready to succeed. Under the accountability system, schools and districts that meet state expectations for student academic performance get increased autonomy and those that do not receive increased support and monitoring.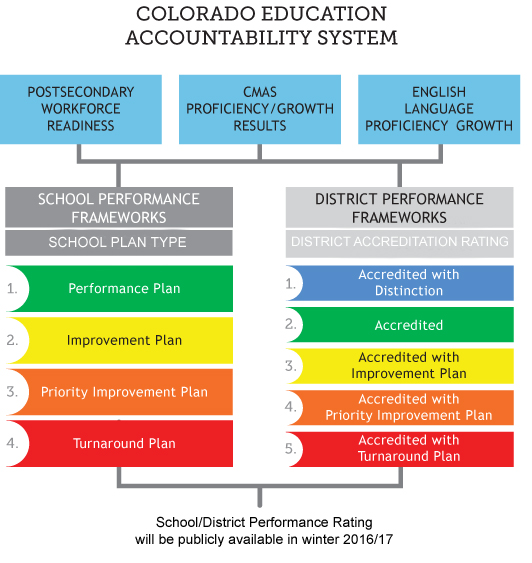 ---
How is performance determined?
Every year a "performance framework" is created for all school districts and public schools in Colorado based on a variety of measures:
Academic measures: Achievement and growth on Colorado Measures of Academic Success tests (overall and for different student groups)
Postsecondary readiness measures (high schools and districts only): Graduation rate (overall and for different student groups), dropout rate, matriculation rate, college entrance exam scores
English language acquisition measures: Growth of English language learners on ACCESS tests
These measures are brought together to calculate an overall "rating" for the school or district.
---
How are CMAS scores incorporated?
Scores on statewide tests become part of the overall evaluation of Colorado's schools and districts. Specifically, the School and District Performance Frameworks reflect students' academic growth as well as their achievement levels in math, English language arts and science, as noted in the "academic measures" listed above. 
---
How are school and district performance frameworks used?
Every year schools and districts receive a rating based on these frameworks. This provides communities with some information on how their students are learning and progressing on the Colorado Academic Standards by looking at academic achievement, academic growth and postsecondary workforce readiness.
All schools and districts are expected to create and update improvement plans based upon data from the frameworks and local data. These plans are known as Unified Improvement Plans (UIP) and identify data trends, root causes and strategies for improving schools. Schools and districts are required to involve families and community members to participate in the plan development, such as through School and District Accountability Committees.
For schools and districts that receive the lowest two ratings, "priority improvement" and "turnaround" plan types, additional resources and supports are available to help schools and districts improve as soon as possible. Additionally, there are other requirements for community engagement and UIPs for these two plan types.
---
What happens when schools/districts receive consistent low ratings? 
Schools and districts that receive priority improvement or turnaround ratings for more than five consecutive years are required to take an action that will result in dramatically improved outcomes. Those in year five of priority improvement or turnaround are encouraged to work with the Colorado Department of Education to identify the most appropriate actions to take. The State Board of Education will consider all options and will direct an action to the local school board. Possible actions include school closure, turning a district-run school into a charter school, bringing in a management partner or giving a school or network of schools "innovation status" that could provide waivers from certain state and local rules. As of July 1, 2016, 28 schools and eight districts are in the fifth year of priority improvement or turnaround. 
---
Where Can I Learn More?