You are here
Fact Sheets and FAQs
Jump to a Section:
---
Fact Sheets
Information about the PSAT and SAT in Colorado (PDF)
The PSAT and SAT exams, taken by Colorado's ninth-, 10th- and 11th-graders, are aligned to the Colorado Academic Standards and offer free, high-quality practice tools and scholarship opportunities. Ninth-graders and 10th-graders take the PSAT and 11th-graders take the SAT as the state college-entrance exam.
---
Frequently Asked Questions
The frequently asked questions are grouped into categories for easier navigation. This section continues to be updated. Please check back often for additional information!
Jump to a Section:
---
Colorado Measures of Academic Success
What are the Colorado Measures of Academic Success assessments?
The Colorado Measures of Academic Success (CMAS) are the state's common measurement of students' progress at the end of the school year in English language arts, math, science and social studies.
Students in grades three through eight take the CMAS tests in math and English language arts. Students in fifth, eighth and 11th grade take the CMAS science assessments. In 2021, about a third of schools will administer the CMAS social studies assessments in grades four and seven.
Will assessments be administered in 2020-21?
While there is still uncertainty and ambiguity surrounding how the COVID-19 pandemic will impact this year's instructional settings, a typical state assessment administration season is currently scheduled to resume in spring 2021 as required by state and federal law. As with most aspects of education, state assessments may need to be adjusted in response to COVID-19 conditions. We will continue to monitor state and federal assessment requirements and expectations as the school year progresses across Colorado and as COVID-19 responses evolve this year.
Who developed the CMAS assessments?
These assessments are developed collaboratively by the Colorado Department of Education, Pearson (the assessment contractor) and Colorado educators.
What grades are assessed?
English language arts and Math: Students in grades three through eight.
Science: Grades five, eight and  11
Social studies: Approximately one-third of schools will participate in testing in grades four and seven.
Why do we need new assessments?
As part of a balanced assessment system, statewide assessments provide valuable information to students, families, schools, districts, the state and taxpayers. A balanced assessment system is one that contains formative assessments (quick checks for learning conducted by teachers throughout their class), interim assessments (more formal progress monitoring often conducted several times throughout the year to see how students are progressing), and summative assessments (end of year assessments to find out what students know and can do).
The state assessments are summative. Where formative, interim, and classroom-based summative assessments inform classroom instruction on a regular basis, state summative assessments are designed to be point-in-time snapshots of what students know and can do in core content areas at the end of the school year. They help students and their families know how they are performing compared to the standards and compared to their peers across the state as well as how they've grown over time. They enable teachers to see how their students are performing against the standards and identify areas they may need to adjust in their practice for the future. They also provide school/district leaders, the state, policymakers, and the public with information on how well the system is meeting the goals of helping every child attain academic proficiency. The data are used to inform continuous improvement of the system at all levels.
Assessments are aligned to the Colorado Academic Standards, which are statewide expectations of what students should know and be able to do at the end of each grade. The standards incorporate future skills and essential knowledge that the next generation will need to be successful in college and careers.
Colorado's statewide assessments help to determine if students have mastered the grade-level expectations by the year's end. The standards set clear, consistent guidelines for what students should know and be able to do at each grade level across 10 subject areas, including English language arts, math, science and social studies.  The Colorado Academic Standards were updated in 2018 to ensure their continued relevancy. Districts will transition to these revised standards over the next year and assessments that fully align to the revised standards are expected to be administered in the 2020-21 school year. The CMAS Science assessment will be implemented in 2021-22. 
Are states required to administer state-wide assessments and what are the minimum requirements?
States that accept federal funds to support the education of children in poverty, English language learners, and students with disabilities are required to administer statewide assessments to all students. Currently, Colorado receives approximately $350 million in federal funds for these and related purposes. The minimum required assessments are:
Grades three through eight for English language arts and mathematics
At least once in high school for English language arts and mathematics
At least once in elementary school, once in middle school, and once in high school for science
Colorado law also has assessment and participation requirements and includes provisions regarding parent excusals from state assessments. Click here for more information about participation and parent excusal. There are also some required assessments specific to certain populations of students (e.g., language screeners for English language learners).
Does Colorado require more assessments than the federal minimum?
Yes. In accordance with these requirements, the assessment system for the 2020-21 school year will include the following tests:
English language arts in third through eighth grade
Math in third  through eighth grade
Science in grades five, eight and 11
Social studies in grades four and seven (About one-third of schools are selected each year to administer social studies assessments.)
PSAT in ninth and 10th grade
SAT in 11th grade
How much time will the tests take?
Overall, the estimated amount of testing time on CMAS is expected to be less than 1.5 percent of typical students' total instructional time.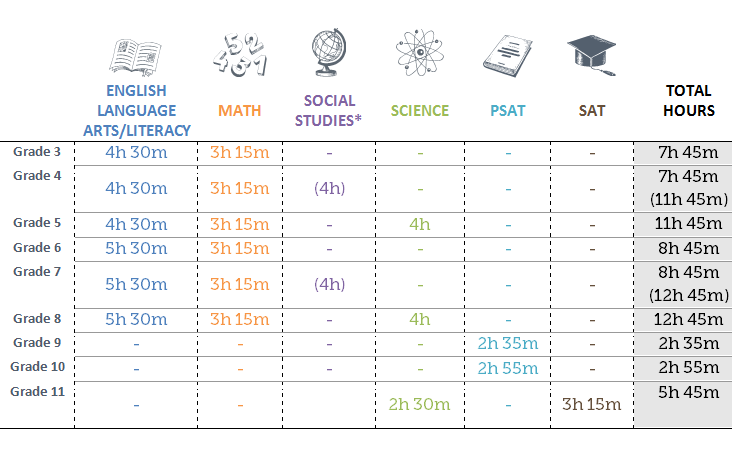 When will the tests be given?
A typical state assessment administration season is currently scheduled to resume in spring 2021 as required by state and federal law. As with most aspects of education, state assessments may need to be adjusted in response to COVID-19 conditions. Currently, the testing window for all spring 2021 CMAS and alternate assessments is April 12-30. Districts may request to administer the high school science and social studies tests earlier. Districts may also request an extended test window for ELA and math due to limited device availability for online testing. March 22 is the earliest start date for ELA and math. Schools administering only paper-based tests will complete testing during the three-week window. Schools with an approved extended test window may administer the paper-based assessment to students as an accommodation outside of the three-week window.
Districts may choose April 13, 14 or 15 as their PSAT test date for ninth- and 10th-grade students. The test window for students needing accommodations is April 14-21. The PSAT makeup window is April 27-28.
Eleventh grade students will take the CO SAT on April 13. The SAT makeup date is April 27.
Are students able to practice with the tests before actually taking them?
Sample items and tasks for mathematics, English language arts, science, and social studies, along with a range of supplementary materials and additional resources are available here. 
Are the CMAS tests given on a computer?
The assessments are designed to be administered on the computer, and they feature a variety of interactive questions that are more engaging and aligned with 21st century teaching and learning practices. However, in 2015, the state legislature passed a law allowing districts to request paper versions of the tests.
---
Participation and Parent Excusal
Can parents excuse their children from taking the state tests?
Yes. Colorado law allows parents to excuse their child from state assessments. This law requires districts to have policies that explain how parents may excuse a student from participating in one or more state assessments and notify parents of those policies. Your district can share its specific policy with you.
What are the consequences of excusing your child from participating in the state tests?
According to state law, districts cannot impose negative consequences on students or parents if a parent excuses his or her student from participating in an assessment, including prohibiting school attendance, imposing an unexcused absence, or prohibiting participation in extracurricular activities. Likewise, districts cannot impose unreasonable burdens or requirements on a student to discourage the student from taking an assessment or to encourage the student's parent to excuse his/her child from the assessment.  
Legislation passed in 2018 mandates that schools must offer all students who are excused from testing the opportunity to participate in celebrations and/or incentives related to the assessments.
It is important to note that non-participation in state assessments means parents will not have information about their child's attainment and growth on the state standards compared to other students in their school, district and state.  Also, there is a chance that comparisons between schools and districts won't be available as common state assessments are the most consistent way to compare performance right now.
Will my school or district's accreditation rating be impacted by low participation on tests?
Federal law requires 95 percent of students overall, and in each demographic category, to take the required assessments. However, the 95 percent participation requirement is applied differently for the state accountability system (School and District Performance Frameworks) and for identification of schools for support and improvement under the federal Every Student Succeeds Act or ESSA.
For identification under ESSA, Colorado must count all non-participants (including parent excusals) in excess of 5 percent as non-proficient records (receiving the lowest obtainable scale score; for example a 650 on CMAS English language arts).
However, the Colorado State Board of Education passed a motion in February 2015 that says districts will not be held liable under the state system for parents choosing to excuse their children from testing.
As a result of these two policies, there is no impact on state accountability determinations for schools or districts that do not meet the federal requirement for 95 percent participation in two or more content areas due to parents excusing their students from testing.
If, however, the school or district fails to meet the 95 percent participation rate requirement in two or more content areas for reasons such as students refusing to take the test without a parent excuse, then the school or district's plan type will be lowered one level. 
Are there financial impacts on teachers or schools for low participation?
There is no fiscal impact on a district or teacher, at the state level, for parents excusing students from state assessments. 
---
Score Reports
When will students, families and educators receive the scores?
Under typical conditions, individual student scores for CMAS tests completed in April are provided to all school districts by the following June and hard copy student performance reports are generally given to school districts in July. School-, district and state-level scores are typically released at the August meeting of the State Board of Education.
What do the score reports include?
The CMAS score reports are designed to provide educators, families and students with better information about students' mastery of grade-level academic standards. Score reports offer an overall measurement of performance in a particular subject, as well as how a student compares to other students in the school, district and throughout Colorado.
How will the test scores impact other measurements of students' performance?
The test scores do not impact grade point average, class ranking or college acceptance.
---
Performance Level Setting for CMAS Tests
What is a performance level?
Performance levels help students, families, educators and school officials understand how students are performing against the content standards for college and career readiness. The performance levels indicate what a typical student at each level should know based on their command of grade-level standards.                                                                            
There are five performance levels for CMAS math and ELA and four performance levels for CMAS science and social studies:
*Students in the top two performance levels met or exceeded the expectations of the Colorado Academic Standards and are considered on track to being ready for the next grade level in the content areas of language arts, mathematics, science, or social studies. Students in the remaining performance levels may need academic support to successfully engage in further studies in the content area.
The colored graph below shows the score ranges for each performance level and where the student's score falls within the range. This gives parents an indication of how close their student is to achieving the next level. 
The student's score is indicated by the black diamond. The arrows next to the diamond represent the probable range, indicating the range of scores the student would likely receive if the assessment were taken multiple times. The scale score needed to reach Performance Level 2 is 700, for Performance Level 3 it is 725, and for Performance Level 4 it is 750 for all grade levels/courses in mathematics and English language arts. The scale score needed to reach Performance Level 5 varies.
The average scale scores at the school, district, and state levels are identified to the left of the graph and are indicated by smaller diamonds on the graph. If the student's score diamond is to the right of the school, district, or state average diamond, then the student performed better than that group's average. If the student's diamond is to the left of the school, district, or state diamond, then on average, that group performed better than the student. The dotted lines on the graph show the lowest scores needed to achieve Partially Met Expectations, Approached Expectations, Met Expectations, and Exceeded Expectations performance levels. The scale scores representing each of those scores are indicated on the bottom of the graph.

What is a scale score?
A scale score is a numerical value that summarizes student performance. When the points a student earns on an assessment are placed on a common scale, the student's score becomes a scale score.
Scale scores adjust for slight differences in difficulty on versions of the assessment that can vary from student to student within a year or between school years. Scale scores allow for comparisons of assessment scores, within a particular grade and subject area, across school years. Not all students respond to the same set of test questions so each student's raw score (actual points earned on test items) is adjusted for the slight differences in difficulty among the various administrations of the test. The resulting scale score allows for an accurate comparison across test forms and years within a grade and content area. For example, a student who receives a score of 700 on one form of the seventh grade mathematics assessment is expected to score a 700 on any form of the assessment.
Scale scores maintain their meaning and can be compared across years. A student who scored 650 on the eighth grade science assessment in 2019 demonstrated the same level of mastery of concepts and skills as an eighth grade student who scored 650 on the science test in 2018. The student's overall scale score and level of mastery of concepts and skills would be comparable to a student who took the same assessment the previous year or the following year.
What is a percentile ranking?
The percentile ranking shows how well the student performed in comparison to other students in the state. For example, a student in the 75th percentile performed better than 75 percent of students in the state.
---
Scoring the Tests
Who scores the tests?
For human-scored questions, qualified scorers are recruited and must have a bachelor's degree or higher in mathematics, English, education or a related field. Scorers for the mathematics assessments hold at least a four-year degree in a related field and have demonstrated the knowledge needed to effectively score responses to math questions. Scorers for the English language arts assessments hold at least a four-year degree in English, education, history, psychology, journalism or a related field, and/or teacher certification or other work experience that will enable them to effectively score the literary analysis, research simulation, or narrative writing tasks found in the assessments. Not all scorers are teachers, but as many as three-quarters have previous teaching experience. Half of all scorers are current K-12 teachers.
How are scorers trained?
All scorers receive extensive training to evaluate student performance on a select and specific group of questions across multiple exams. To ensure that scoring is fair and unbiased, scorers are trained on specific questions instead of a student's full assessment. Each scorer receives extensive training at a regional scoring center on his or her specific question or group of questions and must pass two evaluations before they are deemed eligible to score an assessment.
How are the tests scored?
There is a regimented and defined process to score every student exam that ensures accuracy and security of the assessments and students' information. First, all students are assigned an identification number to protect their privacy. Student answers are then separated and sorted question-by-question and sent to the scorers who have been trained and qualified to score that particular question. This maintains student anonymity and allows scorers to become experts in scoring one question at a time. Scorers assign points to each answer. Depending on the question, up to six points could be available. Each scorer has a binder for each question with the scoring rubric and examples of pre-scored answers that he or she can use to compare his or her scoring against the guide prepared by educators. To ensure scorers are maintaining accuracy standards throughout the scoring process, they will routinely be given pre-scored answers along with un-scored answers. A scorer's evaluations must match the "true" scores at least 70 percent of the time. When a scorer's accuracy declines, he or she receives additional training on the test question. If a scorer cannot maintain consistency and accuracy, his or her previous scores are all put back into the system for re-scoring.
---
How are CMAS scores used?
How can parents use the scores?
Score reports demonstrate students' understanding of grade-level subject standards at the end of the school year. Families can use the scores to begin a discussion with their child's teachers and school officials about the child's academic strengths and areas for improvement; together everyone can decide how best to support the student's needs.
How will teachers use the scores?
Teachers can use the scores to support students' needs, identify strengths and weaknesses, and enhance learning for all students. Because the scores reflect high expectations for what students should know and be able to do, aligning with the demands of today's global economy, teachers can use them to plan instruction and enrichment for students in the coming year that prepare students for life beyond high school.
How will these score reports be used to evaluate schools and teachers?
Colorado law requires 50 percent of an educator's evaluation be based on student academic growth as demonstrated by various assessments or "measures of student learning," including but not limited to state assessments. Beginning in 2015-16, 50 percent of teacher evaluations must be based on student academic growth measures.
A large part of Colorado's educational accountability system is based on the results from state assessments. School ratings are based on average scores on state assessments as well as growth students show from year to year on assessments. Preliminary school and district ratings are typically released in August with final ratings approved in December.  For more information about Colorado's school and district accountability system, please click here. The score reports comprise only one part of how district and school accreditation ratings are determined.
---
Accommodations
Are students with disabilities required to take state assessments? If so, are adjustments made?
State and federal law require all students to be held to the same standards and participate in the state assessment program. There are three ways that students with disabilities can participate in the state assessments:
Take the general assessment without accommodations;
Take the general assessment with accommodations; and
Take the alternate assessment for students with significant cognitive disabilities.
What are accommodations and what are some examples?
Accommodations are changes in how the test is given without changing what is being assessed. Students with an Individual Education Plan (IEP), 504 plan or English Learn (EL) plan, can use specific accommodations allowing the student better access to the test as long as there's alignment between the accommodation and the student's educational plan. That plan may also indicate the student is eligible to participate in Colorado's alternate tests. Accommodations can be divided into four categories:
Presentation accommodations – changes in the way test items are presented to a student (i.e., large print, braille, oral presentation, translated oral presentation, etc.);
Response accommodations - changes in the way a student responds to test items (i.e., uses scribe, responds in Spanish, uses assistive technology device, etc.);
Setting accommodations - changes in the test environment's setting (i.e., small group or individual administration); and/or
Timing accommodations – changes in the scheduling of the assessment (i.e., allowing multiple breaks, providing extra time, testing at specific times of the day, etc.).
What is the CoAlt?
A small number of students, approximately 1 percent of the student population, take the Colorado Alternate (CoAlt) assessment. These are students who have significant cognitive disabilities. Special accommodations are built into the CoAlt specifically for these students.
---
Impact on Accountability
How are schools, districts and educators held accountable for the test results?
Schools, districts and educators are expected to use the results to reflect upon the education program and progress of individual students in order to improve attainment for students. Part of this work is done through the Unified Improvement Plan.
Funding is never withheld from schools or districts based on low test scores. Instead, increased funding is available to support school and district improvement in places where students are struggling.
If a school or district has been consistently underperforming on multiple measures (achievement, growth, graduation rates, dropout rates and college entrance exams) for more than five years, the State Board of Education may direct the local board of education to take a more drastic measure to improve performance for students.
Colorado's education accountability system is based on the belief that every student should receive an excellent education and graduate ready to succeed in careers or in college. Successful schools and districts are recognized and serve as models, while those whose students struggle are identified for support.
Specifically, schools are identified for support and improvement under various state and federal laws that look at performance on a number of indicators.
Schools' overall performance is evaluated by looking at scores on assessments, measuring how well students are growing academically year to year and seeing how well they are preparing students for success after high school. Under this measure, districts and schools are given performance ratings. Those that need additional supports for improvement are also identified.
Additionally, schools with lower graduation rates on the four-year and seven-year cycle may be identified for additional support.
In the same way, schools are examined for how well they are serving students from specific groups on academic achievement and academic growth, how well they are being prepared for life after high school,  and whether they are chronically absent. These specific groups of students include English learners, students with disabilities, those who are economically disadvantaged and students with individual race and ethnicities.
Schools and districts that continue to struggle with student performance over a number of years receive additional attention.
State assessment results may be used as part of an educator's evaluation, as a measure of student growth in the current school year only if results are received two weeks prior to the end of school. If results are not received at least two weeks before the end of school, the assessments may be used as prior year data for the following year. 
How will the test scores impact the statewide system of accountability for districts and schools?
Each year the taxpayers of Colorado spend more than $6 billion a year on public education, and our collective goal is to ensure that all students receive a high quality education and graduate ready for college or the workforce. Toward that end, the 2009 Accountability Act requires the Colorado Department of Education to issue annual school and district ratings, called "performance frameworks," that let communities know how their schools and districts are doing. The ratings help identify schools and districts that are struggling, so they can receive additional support, while schools that are succeeding are recognized so that others can learn from them.
Keep in mind that the state's rating system is just one measure of how we're doing. As you know, so much more goes into the effectiveness of a school, including our culture, the commitment of our staff and the involvement of parents and community members like you.
Elementary and middle school ratings are based on state assessments in English language arts and math – both the average scores our students received in spring 2018 as well as the average growth they showed over the last three years.  Achievement on state science assessments is also factored in. High schools and districts are also rated on graduation and dropout rates, college matriculation numbers and SAT scores. There is also information on specific groups of students, based on race, gender, free and reduced lunch eligibility, those in special education and who are English language learners.
The state releases preliminary school and district ratings through the School Performance Frameworks (SPF) and District Performance Frameworks (DPF) in August. Reports are finalized in December.
In addition to state ratings, the federal Every Student Succeeds Act (ESSA) also requires that states hold schools accountable for the performance of all students, performance of specific student groups, and graduation rates of all students. ESSA provides additional resources for schools in the most need of support and improvement in those areas.
How do test scores impact educators?
Colorado law requires that 50 percent of an educator's evaluation be based on student academic growth as demonstrated by various assessments or "measures of student learning," including but not limited to state assessments. More information on the educator effectiveness system can be found here.
---
View all Fact Sheets & FAQs from the Communications Division

Financial information on schools and districts throughout Colorado. Learn more about financial transparency.
Contact Us
Colorado Dept. of Education
201 East Colfax Ave.
Denver, CO 80203
Phone: 303-866-6600
Fax: 303-830-0793
Contact CDE
CDE Hours
Mon - Fri 8 a.m. to 5 p.m.
See also Licensing Hours
UPDATED January 9, 2014
Copyright © 1999-2021 Colorado Department of Education.
All rights reserved.
Title IX. Accessibility. Disclaimer. Privacy.