2021/2022 Application for Empowering Action for School Improvement (EASI)
Log In
---
Pursuant to: The Every Student Succeeds Act (ESSA), Title I, Section 1003, and the School Transformation Grant through HB 18-1355
With the passage of the Every Student Succeeds Act (ESSA) and with revisions to the state's Educational Accountability Act (HB 18-1355), Colorado has taken the opportunity to change the way school improvement funds (1003a through ESSA and the School Transformation Grant through HB 18-1355) are awarded to Local Education Agencies (LEA). Rather than multiple applications on separate timelines, CDE now streamlines school improvement opportunities into a single application and uses a "needs-based approach" to award services and funding.
This new approach has been designed to maximize impact on student learning; incentivize innovative ideas; create a fair and transparent process; increase efficacy and efficiency; provide greater predictability to LEAs; and prioritize LEAs with high numbers or high percentages of low-performing schools.
Ultimately, the intent is to develop a robust process of matching schools' needs with rigorous, evidence-based strategies and adequate resources. Additionally, awarded funds are intended to enhance districts' and schools' ability to meet the ESSA and state requirements (e.g., stakeholder engagement, improvement plan, and implementation of evidence-based interventions) in a way that directly benefits students.
Colorado has committed to aligning federal and state accountability to the greatest degree possible. These grant funds are aimed at districts with schools that are designated as (1) Comprehensive Support and Improvement (CS), Targeted Support and Improvement (TS) and Additional Targeted Support and Improvement (A-TS) under ESSA and (2) Priority Improvement, Turnaround or On Watch through the state accountability system. Specific eligibility and prioritization requirements are detailed in the information sheets for each service.
To access the full application planning document and other application resources, visit the EASI home page.
To Access the EASI Application:
Each interested LEA must designate up to two (2) Application Contacts and submit the name and contact information here. It is recommended that the LEA select a main program contact and a fiscal contact to initially access the application.
Once contact information has been submitted, access instructions will be emailed to the Application Contacts.
For information on LEA/school eligibility, EASI routes, and the full application planning document, visit the EASI home page.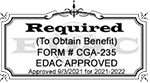 ---
APPLICATIONS ARE DUE WEDNESDAY, DECEMBER 8, 2021 at 11:59 PM.
---
Technical Assistance: Submit questions or requests for technical assistance to EASI@cde.state.co.us