Capital Construction Assistance Online Grant Application Tool (Form CC-03)
This utility will allow you to Create, Edit and Print your Capital Construction Assistance Grant Applications (Form CC-03).
The Capital Construction Assistance Online Grant Application is now closed.
You may log in to view and print your application but no edits or additions are possible. Please contact bestschools@cde.state.co.us with any questions.
---
Check-List for a Complete Grant Application:
A complete grant application will include the online grant application as well as electronically submitted supporting materials. In order for the submitted grant application to be considered complete, the following must be included or the application may not be accepted. Be sure to answer all application questions. The BEST grant is a competitive grant, incomplete responses may be scored accordingly.
Online Grant Application:
CC-03 online grant application
Electronic Submittals (Submit via Syncplicity upload by due date):
Scanned signature page from the submitted CC-03 online application
Photos as described above
All Supporting Documentation outlined on the Submittal Requirements Based on Project Scope page of the application
Detailed project budget using provided format
Waiver application if not providing the minimum applicant match
View additional guidance on the instructions page
Due Date
The grant application with signatures and electronic submittals must be received:
before 4 pm on Thursday, June 15, 2023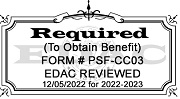 Grant Manager / Contributor Accounts:
Applicants who submitted a Notification of Intent to Apply by the deadline of November 30th will be assigned a Grant Manager account. If you have not yet received a Grant Manager account, or missed the notification deadline, please contact your Regional Program Manager.
Only District, Charter School, BOCES, or Colorado School for the Deaf and the Blind personnel may be assigned as a Grant Manager. Grant Managers have the ability to add and remove additional contributors and viewers for their organization.
---