CDE will be closed on Monday, July 4 for the Independence Day holiday.
You are here
The Spark - November 2021
Jump to a section:
---
Dear Educators, 
Everywhere I go, I hear educators and school leaders tell me that they are worn down. The common response to a friendly, "How are you?" usually results in, "I'm hanging in there," or "I'm getting by."
This year does seem to be even harder than last year for many of us. Maybe it's because we are all worn out from the stress of the last year and a half. Maybe it's because schools everywhere have lost educators and support staff, so others have had to take on more. Maybe it's because we're all so worried about helping our kids catch up on things they missed last year. The reality is -- it is all of those things. 
Whatever the reason you may be feeling depleted, please know that I hear you, and I'm thinking about you. 
I've had the chance to talk with quite a few educators and school leaders this fall, but I'd like to hear from more of you. How is this year going? What ideas do you have for ways CDE can support teachers? We need to invest in retaining and supporting our high-quality, hard-working teachers. What are your ideas for supporting and retaining teachers? What types of professional development would help you improve your practice and make your jobs less stressful? You can send your ideas directly to me at commissioner@cde.state.co.us. 
Retaining our excellent, high quality teachers is one of my top priorities as commissioner, and I want to do everything we can to support you. We have designated $5 million in federal funds for providing professional development for teachers, and $15 million for educator and staff workforce development initiatives, but we're still determining how, exactly, that money should be spent. The money comes from our ESSER funds that are set aside for state-level activities. If you'd like to learn more about our full ESSER plan to invest $132 million to support schools in accelerating learning, view our website. 
Please take a few moments to let me know your ideas. I love getting to visit with teachers across the state in person, but I also appreciate getting your emails with ideas for ways we can support your work. 
I am so proud of all of our teachers in Colorado for your incredible professionalism, dedication and compassion during these difficult times. You are supporting your students with their academic learning as well as their overall sense of well-being. And in many cases you and your schools are the bedrock of the entire community. 
I can never express how thankful I am for all of you. Please take good care of each other!  
Katy
---
Autumn Rivera, a science teacher at Glenwood Springs Middle School in Roaring Fork School District, was named Colorado's 2022 Teacher of the Year in a surprise, limited-capacity ceremony at her school on Friday, Oct. 22. 
Ms. Rivera has taught sixth grade at her current school for nine years. She is also an adjunct professor in the education department at Colorado Mountain College. During her more than 16 years as an educator, she has worked with students from elementary to postgraduate levels. Rivera is a member of the Colorado Science Conference Planning Committee and the Steering Committee with the Colorado Science Education Network. She is the Region 3 Elementary Board representative for the Colorado Association of Science Teachers and volunteers with the American Association of Chemistry Teachers.
In addition to her work in the field of science, Rivera serves on the Roaring Fork School District Interest Based Bargaining Committee and is her building's advisor for the district's Mentor and Advisor Program. She is the design facilitator for schoolwide events as well as a school track coach.
"In a time where it is more important than ever for students to feel supported in and out of the classroom, Ms. Rivera goes above and beyond to build trusting relationships with her students and their families," said Colorado Education Commissioner Katy Anthes. "We have heard firsthand from her school community how inspired they are by Ms. Rivera's passion for science, her dedication to the teaching profession and her commitment to equity. I am ecstatic to work with her during her journey as our Colorado Teacher of the Year!"
As Teacher of the Year, Rivera will represent the entire profession in Colorado and be the public face of Colorado's teachers. She will be entered as Colorado's nominee for the National Teacher of the Year Program competition and will receive many professional development opportunities. Rivera, along with the country's other teachers of the year, will be honored at a special ceremony at the White House and get the opportunity to go to NASA's Space Camp. She will also become a member of the Colorado Education Commissioner's Teacher Cabinet.
 For more on the Colorado Teacher of the Year, visit the program webpage.
---
Education Commissioner Katy Anthes recently announced 10 new educators will be added to her Teacher Cabinet. The cabinet was formed in 2017 to provide CDE with direct feedback and advice from educators on Colorado education policy. Over the past two years, the cabinet has provided valuable teacher perspective into how state education policy affects work in the classroom.
"I'm grateful to these teachers for agreeing to share their time and expertise by becoming the newest members of the cabinet," said Commissioner Anthes. "This exceptional group of educators provides us invaluable perspectives on the challenges facing educators in our state and can give us ideas for how we can continue to elevate the profession of teaching."
New members for the 2021 cohort are:
Emily Adams – a sixth-grade grade English language arts teacher at Adventure Elementary in Mapleton Public Schools.
Tina Barber-Matthew – a social studies teacher at Clear Creek High School in Clear Creek School District.
Angelina Barela – a second-grade teacher at Roosevelt Charter Academy in Colorado Springs School District 11.
Emma Copeland -- a special education teacher at Strasburg Elementary School in Strasburg School District.
James Flinn – a culturally and linguistically diverse education teacher at Pikes Peak Elementary in the Harrison School District 2.
Tegan Lewis – a K-2 teacher and exceptional services administrator at Battle Rock Charter School in Re-1 Montezuma Cortez.
Andrea Malouff -- a K-2 reading interventionist at Alamosa Elementary School in Alamosa School District.
Jennifer McLoud – a seventh grade English language arts teacher at Highland Middle School in Ault-Highland/Weld Re-9.
Baochau Thomas -- a seventh-grade math teacher at Horizon Middle School in Cherry Creek School District 5.
Sarah Tilton -- English language arts and English second language teacher at Trivista at Horace Mann Elementary in Denver Public Schools.
The cabinet meets at least four times a year, and members serve two-year terms on a volunteer basis. The group's first meeting will take place virtually on Friday, Nov. 5. To keep up with the cabinet's work and view a full list of members, visit the Commissioner's Teacher Cabinet webpage.
---
State working on efforts to get more teachers into the field
Even before the pandemic, Colorado was hard hit with teacher shortages, particularly in the hard-to-fill positions such as math and special education. Other positions experiencing shortages include school nurses, bus drivers, school nutrition personnel and teacher aides. Additionally, rural school districts have experienced an even more difficult challenge of filling positions.
ESSER funds helping recruit and support teachers
CDE has been dedicating federal emergency relief funds to tackle the state's educator workforce needs. Over the next year CDE will use Elementary and Secondary School Emergency Relief (ESSER) federal funds to develop a statewide mentoring program that supports early career educators in their first three years of teaching, encourage pre-service educators to enter the workforce and recruit high-quality educators to Colorado schools. 
During the 2020-21 school year, ESSER I and ESSER II funds paid for professional development for new teachers through a new educator boot camp, where teachers learned critical skills in supporting students in online and blended environments. This allowed districts to  ramp up new educators more quickly to meet the needs of students. 
Alternative pathways
State and federal funds have been used to support the recruitment and preparation of alternative educators who enter the profession through a residency-based program. State-funded initiatives allocated tuition assistance and stipends directly to these educators. Because of this, Colorado has seen an increase of 800 educators entering into the alternative educator pathways, particularly in hard-to-fill content areas such as math and science in the last year and over this summer.
During the 2020-21 school year, CDE partnered with the Colorado Workforce Development Council to implement local recruitment initiatives for substitutes and alternative educators through workforce development centers. This led to an increase in substitutes and educators trained through alternative pathways for hard-to fill geographic areas. 
To further this program, CDE and CWDC also partnered with the AmeriCorps program through the Lt. Governor's office, which supported the employment of just under 100 Corp members in schools fulltime to serve as substitutes and/or mentors and tutors in after-school programs. 
Expedited licensure for counselors, social workers and psychologists
CDE has partnered with the Colorado Department of Regulatory Agencies to expedite the licensure of counselors, social workers, and psychologists to earn an educator license on an interim basis. These professionals then complete induction and mentoring activities that support their transition to an educational environment while still acquiring the skills needed to be highly effective and safe in an educational setting. By doing this, Colorado's professionals can enter the educational system more quickly and therefore support students faster. 
Legislation helping boost workforce
Additionally, last legislative session, lawmakers passed Senate Bill 21-185, which created the Educator Recruitment and Retention program to provide financial support to pay educator preparation costs for members of the armed forces and nonmilitary-affiliated educator candidates and to support local education providers in recruiting, selecting, training and retaining highly qualified educators across the state. Qualified applicants can apply for up to $10,000 in financial assistance towards educator preparation program costs if they commit to teaching in a rural district for three years. 
Also, Senate Bill 21-58, allows districts to establish alternative principal programs that will create more career pathway options for existing educators.
Substitute educators
Colorado recently started the Colorado Substitute Stipend program that provides a $300 bonus to prospective substitutes. To be eligible, the individual must: 1) Obtain a valid first-time Colorado substitute authorization; 2) Register and attend a free, virtual Substitute Boot Camp; 3) Work a minimum of one day as a substitute in a Colorado school district, BOCES, charter or approved facility school.
Additionally, CDE provided school districts with a toolkit to help them attract more substitutes. The toolkit has flyers, sample social media posts and other resources to help districts lead the charge in getting more subs in the schools. Visit the Be A Sub! webpage.
CDE also encourages districts to work with their local community colleges or four-year institutions to recruit college substitutes. These students often have full or half days that can be dedicated to substitute teaching. And don't forget about your own community. Many members of the school community want to support education in various ways and are willing to be substitute educators – they just need to be asked!
---
How to submit documentation for READ Act teacher training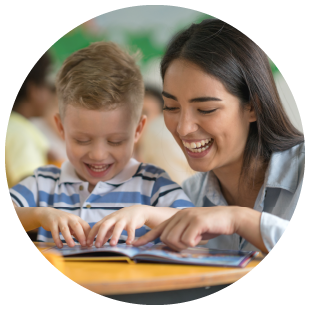 ---
COVID-19 vaccines for 5- to 11-year-olds will help maintain in-person learning
With the approval this week of the Pfizer vaccine for children ages 5-11, the Colorado Department of Public Health and Environment recommends parents and guardians make a plan to get their children vaccinated. Getting children vaccinated now will help us all ensure that students continue to benefit from in-person learning.
COVID-19 vaccines for 5-11-year-olds will be available at many of the same places already administering other COVID-19 vaccines -- doctor's offices, pharmacies, community vaccination events, local public health clinics, school-based health centers and more. Planning is also underway with partners to offer several large vaccine clinics during evening hours and weekends.
Remember, Colorado's Healthy Families and Workplaces Act entitles people to paid time off from work to take their child to a vaccine appointment or care for them if they experience vaccine side effects.
Additional information, including frequently asked questions, tips for parents and a list of providers accepting advance appointments, can be found on the CDPHE website.
---
Additional news and resources
Colorado Department of Human Services launches program to promote youth mental health
The Colorado Department of Human Services' Office of Behavioral Health and partners recently launched I Matter, a program to promote youth emotional and mental health. Young people can take a confidential survey to be matched up with a mental health professional who can best support them. Every youth is then eligible for three free counseling sessions.
Visit IMatterColorado.org to learn more.