You are here
The Spark - October 2021
Jump to a section:
---
Dear Educators, 
Are you getting the same kind of emails I am? 
"You should be ashamed of yourself"
"Blood is on your hands."
"THIS KIND OF PAIN AND HARM THAT DIRECTOR ANTHES DID OUT OF MALICE AND HATE FOR THE CHILDREN OF WORKING-CLASS PEOPLE CANNOT GO UNPUNISHED. I DEMAND THAT SHE RESIGN TODAY."
These comments were pulled from emails that came in last year after the governor's order moved schools to remote learning due to the surging coronavirus. And though they could easily be shrugged off as being just angry rants, I felt the writers' pain.
As Colorado's Education Commissioner, I expect to take heat. But you deserve better. Our teachers and school leaders deserve the utmost respect for the incredible work you do every day and for your dedication to not only learning but also to doing the best you can to keep your students safe every day. 
Sadly, we seem to have entered into a new level of vitriol that is not just focused on public servants but on anyone who seems to differ in opinion. But there is a lesson to be learned for all of us.
Everyone needs to step back. Stop shouting. Listen. And be respectful.
And this new sense of civility should begin in the education arena. It is well understood that most of society's big issues eventually find their way into the education world -- from racial politics of the Critical Race Theory debate to health safety versus personal liberties in the masking issue. In many ways, the school house has become our society's proverbial town square. 
But the discord over the last year seems to have passed the threshold of civility. As education commissioner I am asking every member of our communities to treat our educators and our locally elected school board members with the courtesy, understanding and respect you all deserve for the work you do and the care you give to students every day.
At a recent Douglas County Schools community forum, audience members heckled speakers who wanted the board to vote in favor of a mask mandate. Those who were opposed to the mandate likened requiring masks to the Nazi government's extermination of the Jews and stood with their backs turned when a doctor explained the health behefits of wearing masks. In other places students have been heckled for their view on masks and teachers threatened physically for sharing their perspectives.
I have always felt that differing views can make decisions more thoughtful and appropriate in service to the public -- consensus and give and take is important to make final policy decisions that everyone can live with. With those values being at the core of my beliefs, I had to think long and hard about taking on the commissioner role five years ago in a country that seemed to become more divided by the year. 
I remember thinking very specifically about what I could add to the State Board of Education and the education debates in Colorado. I even scribbled on some flip charts about it.  At the top of the list was my desire to model civility and the ability to listen carefully to both sides of a debate before reaching a decision.
Here is the thing, we all talk about listening to one another, but how much do we really listen to people we disagree with? Why do some parents eschew masks for their children? And why do some support masks? You see this up close every day, but the root of both viewpoints is their love for their children.
I desperately want to live in a democracy and a community that can respectfully listen, share their opinions and acknowledge the others' positions. And I yearn for citizens who can engage in public dialog and have empathy and understanding for public servants like school administrators and teachers who serve multiple constituents with differing opinions. 
I also know people are hurting. This past year has taken a lot out of everyone and left people with frayed emotions. I believe much of the vitriol we see today is coming from a source of pain. We need to understand that people are sad, angry and deeply wounded. We must also understand that they really and truly want what's best for their families. 
Adding fuel to the fire is the fact that many people are getting simply wrong information, ginned up by those who have ulterior motives. This is where it becomes difficult and why education is truly the way forward. It is our duty as citizens to be informed. But that gets harder when there are so many sources of information and misinformation in today's world. A well-informed and critical mind can sift through the misinformation to find the truth. It is essential for our education system to help our future generations discern what is real and what is fake. 
Regardless of the conflicting information out there, it will never be acceptable to threaten, scream at and bully public servants, especially our teachers and school leaders. There must always be a place for disagreements and the airing of different ideas and ideals. But we need to do better to model this for our children. They are watching and absorbing.  And they are the leaders of our future. 
Thank you for hanging in there during these difficult times.
Katy
---
Meet Colorado's seven finalists for the 2022 Teacher of the Year.
Carrianna DePace, a fifth-grade English language arts teacher at Mountain Vista Community School in Harrison School District 2.
Julia Ferre, an eighth-grade science teacher at SkyView Academy in Douglas County School District.
Emmylou Harmon, a secondary science, math and CTE agriculture teacher at West Grand High School in the West Grand School District.
Ashley Lowe, an eighth-grade English language arts teacher at Falcon Middle School in School District 49.
Autumn Rivera, a sixth-grade science teacher at Glenwood Springs Middle School in Roaring Fork School District.
Cristina Vanzo, a STEM teacher for grades six through eight at Craig Middle School in Moffat County School District RE1.
Paula Wilderman, a middle and high school math and science teacher at Ascent Classical Academy of Douglas County.
The sole finalist for Colorado's 2022 Teacher of the Year will be announced at the end of the month. In addition to representing the entire profession for Colorado, the winner will become the state's nominee for the National Teacher of the Year awards.
Visit the Colorado Teacher of the Year webpage for more information about each of the candidates and the program.
---
The University of Colorado's Department of Psychiatry has developed a cache of services for Colorado educators to help them navigate this school year, including a well-being support line, an online support program, an "ask a therapist phone line" and individual and group support services.  
All services are free, confidential and available to any educator in the state of Colorado. Professional Development and Graduate Credits are available for people who use the workshops and online program.
The services are being supported by Partners in Children's Mental Health, the Colorado Education Association, the Office of Behavioral Health and the Colorado Department of Public Health and Environment's Colorado Spirit. 
There are only two criteria to receive the services: you must be employed in a school system and live in Colorado. You do not have to be a classroom teacher, only work with the school or childcare system. The services are available for teachers, but also support staff, administrative staff, mental health staff, Early Childhood Educators in public, private, and charter schools across the state.
Find out more by clicking here.
---
Review and revision process underway for standards
The review and revision process for the Colorado Academic Standards areas of social studies and the arts is underway. 
During the 2020 legislative session, the Colorado General Assembly required the State Board of Education to review and revise approximately one-third of the Colorado Academic Standards content areas beginning in 2020 and an additional one-third of the content areas every two years thereafter. Previously, the review and revision process occurred every six years for all content areas. The prior revision cycle occurred in 2018.
In May, committee members were selected for these content areas. Committees have been working for the last several months on recommendations for revisions to present to the state board at its November meeting. Also at that time, public feedback will open for anyone interested in providing comments or suggestions on the standards. 
The window to provide feedback will open Friday, Nov. 12, and is anticipated to close Jan. 1. More details to come.
After feedback has been collected and considered by committees, the State Board of Education will review suggested changes and discuss any proposed amendments to each set of standards before voting on them in May or June. School districts will then have two years to transition their local standards, curriculum and assessments to align to the revised standards, with implementation expected to begin during the 2024-25 academic year.
As a reminder, after this first group of standards content areas are revised, the Standards Revision Process will begin again for Group Two, which will consist of comprehensive health and physical education, computer science, and world languages. 
The third and final group of standards that will go through this process includes English language proficiency, mathematics, science, and reading, writing and communicating. Calls for committee member applications and other updates will be posted in the Spark.  In the meantime, to keep up to date with the process, visit the Colorado Academic Standards Review and Revision Process webpage.
---
How to submit documentation for READ Act teacher training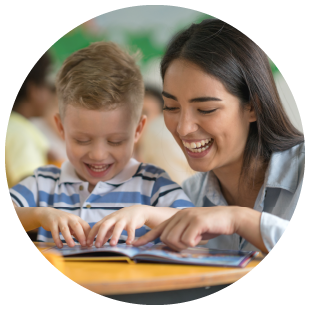 All Colorado K-3 teachers must show that they have completed evidence-based training in teaching reading by August 2022. For licensed teachers, the Colorado Online Licensing System (COOL) is now able to accept documentation of meeting the READ Act evidence-based training in teaching reading requirement. Visit this webpage to see how to submit documentation.
---
Teachers can now certify students to access the Colorado Talking Book Library
A long-awaited change was recently made by the National Library Service that enables teachers and other school personnel to certify the eligibility of students with reading disabilities, allowing them access to the state's free talking book and braille library service. 
Until just recently, only doctors of medicine or osteopathy could certify that an applicant had a  reading disability. This certification was a barrier for most students, and the state's Talking Book Library never had a large student clientele for these services. It currently has only about 180 patrons between 2 and 18 years of age. 
Now that reading specialists, educators, librarians and school psychologists will be able to confirm the eligibility of people with reading disabilities, the number of patrons is expected to increase, said interim state librarian and director Debbi MacLeod. 
A recent pilot program in Pennsylvania and Texas tested the expansion of new certifiers and found that about 2,100 new patrons with reading disabilities joined in one year. 
"Now anyone who understands that their student has a reading disability can certify, which will be a terrific benefit for those children who can now access our library," MacLeod said.
If teachers are aware that a student could benefit from the service, they can send an application home with a parent and certify it to allow for access. 
"Generally, teachers know which of their students are struggling but if they are not sure, a reading specialist at the school or the school psychologist can certify instead," MacLeod said. 
The Colorado Talking Book Library is celebrating its 90th anniversary this year. During the pandemic CTBL was able to send reading materials through the mail to its patrons. Audio books can be downloaded 24/7 through the Braille and Audio Reading Download (BARD) service and the BARD mobile app with any smart device.
For people who can't read standard print, the Colorado Talking Book Library provides audio, Braille and large print books. More than 80,000 digital titles and over 13,000 Braille titles are available for download with new titles added weekly.
For more information, visit the Talking Book Library's webpage. 
---
Additional news and resources
Loan Forgiveness for Teachers
There are two types of Federal Loan Forgiveness programs intended to encourage individuals to enter and continue in the teaching profession:
Teacher Loan Forgiveness is directed to teachers who have Direct Subsidized Loans, Direct Unsubsidized Loans, Subsidized Federal Stafford Loans, and Unsubsidized Federal Stafford Loans.
Teacher Cancellation is for Federal Perkins Loans.  A teacher may qualify for cancellation (discharge) up to 100% of a Federal Perkins Loan if they have taught for one full academic year at full-time in a public or non-public elementary or secondary school.