You are here
The SPARK - August 2018
Jump to a section:
---
Dear teachers,
I hope your summer was filled with rest and relaxation and that you feel rejuvenated and ready to begin another school year!
I spent much of my "down time" this summer training to run the Hood to Coast 199-mile relay race in Oregon with some of my friends. You may think I'm crazy, and sometimes I think I'm crazy for doing this, but during my seemingly endless training runs I often compare running in a relay race to our collective mission to provide ALL students with a high quality education that sets them on successful life paths.
Running for 199 miles is incredibly ambitious. Really, who would do that alone? I could never complete such a long race by myself. But I can do it together with others who share the same mission, which sounds like the best approaches to education. 
Teaching, like long-distance running, is hard work that requires hours and hours of preparation, planning, self-evaluation and dedication to continuously improve. Today's teachers must be incredibly creative to meet the needs of the whole child. So many students come to school with critical needs for health care, mental health or even basic needs like food, sleep and clean clothing. Just like runners in a relay race, teachers cannot do it alone. They need a whole team of caring adults – a whole community – to meet the needs of today's whole child.
This call for collective impact—for broader community partnerships and engagement from social service agencies, colleges, businesses, nonprofits, government agencies and other partners – comes through loud and clear during every meeting of my Teacher Cabinet. These outstanding teachers from across the state met four times over the past year. Each time we come together, I am blown away by the collective wisdom of the group – insight that can only come from years and years of running the race, so to speak, for our students.
Over the last year, I've asked teacher cabinet members for ideas and feedback on a number of critical policy questions, including how to best address the teacher shortage crisis. Thanks in part to their ideas and wise counsel, we made progress on our efforts to recruit and retain teachers. Their feedback was fed directly into the legislative processes that produced several bills to help recruit and retain teachers. You can read more about the outcomes of the legislative session later in this newsletter.
During the last meeting, I asked the cabinet members to provide feedback on a big-picture strategy for education being developed by the Governor's Education Leadership Council. The ELC is looking at the state of Colorado's education system, asking hard questions and working passionately to create a future where Colorado is the nation's leader in education access and quality.   
Once again, the teachers gave me wise counsel. For example, Ashley Farris, a 12th-grade English teacher at Kipp Denver Collegiate High School, offered cautionary words around one of the ELC's draft principles to honor multiple student pathways.
"I think it's important that we don't 'top down' put values on what we think students should do, but should really ask the community what they value, what they want for their kids," Farris said.
Another educator, Megan Witucki, who co-teaches at Compass Montessori School in Wheat Ridge, advised us to identify the barriers to deeper community engagement in education, "so that we can change that in the future and make really effective connections for our children and our school communities."
The teacher cabinet has demonstrated to me over and over again this past year that, yes, we need whole community involvement to achieve our mission of providing all students access to high quality educational opportunities. Together, these educators representing large and small, rural, suburban and urban schools find common ground and help shape the way the Colorado Department of Education implements our state's education policies. The Teacher Cabinet itself is one of the best examples of collective leadership and collective impact I see in Colorado.
As we begin the new year, let's remember that together we can do more. The teacher cabinet represents Colorado teachers extremely well, but I'd like to hear directly from you if you have ideas for engaging whole communities in our collective mission. Reach out to me any time at commissioner@cde.state.co.us.
Sincerely,
Katy
---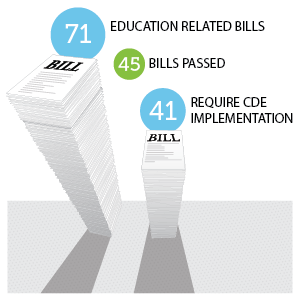 Getting more teachers into the field and retaining existing teachers was a focus of much of the education-related legislation during the 2018 session of the Colorado legislature.
In total, 71 education-related bills were introduced during the 2018 session with 45 passing. Highlights include giving more stipends to teachers in rural schools for professional development, creating a grant to prepare and place educators in high-needs areas and providing districts with more money to develop ways to retain teachers.
Here is a breakdown of some of the important teaching-related bills that were approved and signed into law by the governor in 2018:
---
Two things to remember when considering the new licensing rules that call for 45 clock hours of Culturally and Linguistically Diverse training for specific teachers to support English language learners in the classroom.
The Colorado Department of Education is providing flexibility to educators to allow the use of previous Culturally and Linguistically Diverse (CLD) training and past experience to satisfy the requirement.
The earliest the requirement must be met will be in 2023.
In June, the Colorado State Board of Education approved the new requirement that will require licensed teachers who hold endorsements in elementary, math, science, social studies and English language arts to document at least 45 clock hours of CLD training to renew their professional licenses. The requirement is effective beginning Sept. 1 and will be required only once during the term of an educator's license.
As stated above, CDE will allow the use of previous training that aligns to the standards and past experience to satisfy the requirement. In addition, the timeline for teachers to submit this documentation is not required until an educator's next full five-year renewal of their professional license. The earliest that will happen will be five years from now, which will allow for one full renewal cycle for teachers' professional licenses. More information on the timelines is provided on this webpage.
At the time of renewal, teachers can use their CLD professional learning or provide a waiver from their district or Charter School Institute, if their district has an average of 2 percent or fewer English language learners over the last three years.
In addition, professional development activities completed to satisfy this requirement may be counted toward the 90 clock hours of professional development required to renew a professional license.
Educators can meet the new CLD requirement in one or more of the following ways:
CDE's website will continue to be updated with professional learning opportunities for CLD courses that can be used by educators and districts.
 
The changes came about after CDE found that in 2017, 125,000 English learners were enrolled in Colorado schools making up nearly 14 percent of the total K-12 population with that number projected to grow. Over the past decade, the number of English language learners in Colorado's public schools has increased at more than double the rate of the overall student population, 38.1 percent compared to 15.1 percent. Of the more than 100,000 teachers holding a Colorado teacher license, not quite 5 percent hold an endorsement in English language development.
---
Over the past year nearly 200 people, including about 75 teachers from across Colorado, volunteered on 13 committees that worked for more than a year on reviewing and revising the Colorado Academic Standards. 
 
The revised standards were approved by the Colorado State Board of Education this past spring, and school districts now have two years to review and revise their local standards to meet or exceed the updated standards. Educators will start using them in the classroom during the 2020-21 school year.
For the most part, the standards in many of the content areas were changed only slightly. The big changes were the addition of the optional computer science standards for high-schoolers and the adaption of the Next Generation Science Standards into the Colorado academic standards for science.
Although implementation will take a couple years, staff from the Office of Standards and Instructional Support will start asking for input on the best ways to implement the science standards. The Colorado Department of Education also plans to launch a searchable database with all the updated standards for reference. More information on that will be available later this month.
To keep up with the implementation of the Colorado Academic Standards, visit the 2020 CAS webpage.
You can also subscribe to the newsletter to receive updates on implementation of the standards in your inbox. Click here to subscribe and view previous editions.
---