You are here
The SPARK - October 2019
Jump to a section:
---
Dear Educators:

I love October because it means yellow leaves, cozy sweaters, pumpkin spice lattes and too much candy! Hope your fall is going beautifully and that learning is in full swing in your classrooms and schools!

CDE is also in full swing! We've been working hard for many months on implementing legislation passed during the 2019 legislative session, and we're also busy helping support our State Board of Education members as they carry out the duties assigned to them by the Colorado Constitution and various state and federal laws. 

A lot of folks don't know much about the state board or its duties, but these elected board members make policy decisions that have great impact on our educational system. I thought I'd take a minute to share the top 10 things I think every teacher should know about the board.
No. 10 -  The State Board of Education is made up of seven members – one member is elected from each of our seven congressional districts. This could change if the results of the 2020 Census give us an extra congressional seat. These are unpaid positions that are elected by their district's voters. They hold their seats for six years.  
No. 9 - The State Board of Education appoints the commissioner of education in Colorado. So, in actuality, the board members are my bosses. In most states, the duty to appoint the head of the state Department of Education rests with the governor. Five states share the same governance model as Colorado - Alabama, Kansas, Michigan, Nebraska and Utah.
No. 8 - Neither the State Board of Education nor the Department of Education may set curriculum for local schools and districts. Instead, the board is responsible for adopting and periodically updating academic standards for preschool through 12th grade students.
No. 7 - Local districts set their own graduation requirements, but they must meet or exceed the state's graduation guidelines approved by the State Board of Education in 2013.
No. 6 - The legislature and the federal government set the laws about the subjects and grade levels in which students must take state assessments, but the State Board of Education sets the cut points between performance levels on the assessments and the board creates rules around how those assessments are used in school ratings.
No. 5 - The State Board of Education is also responsible for assigning school ratings. The board must also take action when schools and districts receive more than five years of low ratings.
No. 4 - The State Board of Education hears appeals from charter schools if the charter believes their district's denial of their application was not in the best interest of students.
No. 3 - While the legislature sets school funding levels, the state board approves the distribution of the money as required by the legislature's funding formula.
No. 2 - The State Board of Education oversees educator licenses and authorizations and reviews content of educator preparation programs.
No. 1 - The State Board of Education members are all committed to doing what's best for students in Colorado. If you want to share your opinion on something the board is considering, you can reach them at state.board@cde.state.co.us.
Best,
Katy
---
Hello Teachers,

As the cool autumn fall weather begins to grab a foothold, we are deeply into our school routines with summer becoming a more distant memory every day.

But I want to talk about those first days of school and what they meant to me as an educator not so long ago.

First, I would like to introduce myself. I am Colleen O'Neil, the associate commissioner of the Educator Talent division, which encompasses the offices of educator preparation and development, educator licensing and enforcement, and educator effectiveness. But, much more important than that, I'm an English teacher.

I know you all probably had an amazing summer, spending time with your family, friends and perhaps traveling or engaging in your own professional development and learning. As a former classroom teacher, I know that you also probably missed your students, your classroom, colleagues and profession.

Every year as the new school year begins, I start getting excited, thinking about what it was like to set up my classroom to be the ultimate learning and collaboration. My summers were spent learning about new ways to reach my students in a way that is meaningful for them. I would read books and articles about teaching. I would spend days poring over updated standards, new texts, curriculum maps, online resources and past instruction to make sure that I'd be updated, realigned and re-engaged so that I would be ready to help every student, every day once the first day arrived.

This summer, a friend of mine who teaches on the Western Slope spent days wandering around local stores, trying to figure out a budget-friendly way to bring the outdoors into her classroom. She ultimately found it by creating a living outdoor space in the classroom by using S-hook hangers and small metal buckets - all painted, planted and hung during the summer days.

This is just one example of how you all devote so much time and energy thinking about your students' needs, the community's needs, and how you are going the extra mile on behalf of kids.

No, teachers do not take summers off. They simply shift their daily practices so they can engage in the planning process that makes them great educators. You do this because you have a passion for helping others learn and succeed. You take pride in being educators and helping students achieve their greatest passions.

As you continue through this new academic year, please remember that you truly do have super powers.

Your super power is clear – you teach.  You are an educator. Your students know that they have someone who is rooting for them, someone who cares deeply about every single success they have in the classroom and years beyond in their lives.

In these early weeks of the school year, may your super powers shine every single day of the 2019-20 school year. I wish you a wonderful and meaningful school year, and thank you for choosing to be an educator in Colorado!
Sincerely,
Colleen O'Neil, Ed.D.
Associate Commissioner of Educator Talent
---
A key to keeping students engaged in school may be as easy as welcoming them every day by name and giving them a smile, said Dr. Robert Brooks, a psychologist and faculty member of Harvard Medical School who will be a keynote speaker at the National Dropout Prevention Conference Saturday, Oct. 5, through Tuesday, Oct. 8, at Aurora's Gaylord Rockies Resort & Convention Center.
"When you interview people who have faced great adversity in their lives as children and adolescents but are now doing relatively well in life and you ask them what helped them through their hard times, almost all respond that there was one person who encouraged and believe in them," Brooks said. "That person often turns out to be a teacher."
Brooks' speech Monday will highlight a strength-based approach for preventing students from dropping out, with a focus on the relationships that students have with teachers and other professionals in a school setting.
He will describe the mindset and strategies of educators who are effective in nurturing motivation, positive emotions, self-discipline and resilience. A special focus will be on helping students experience a sense of belonging and ownership in schools, identifying and reinforcing each student's "island of competence," and providing opportunities for students to engage in what he calls "contributory activities," namely, activities in which they enrich the lives of others in the school setting.
Brooks has lectured around the world about resilience and school and work climate and has authored or co-authored 17 books, including Understanding and Managing Children's Classroom Behavior: Creating Sustainable, Resilient Classrooms; and The Power of Resilience: Achieving Balance, Confidence, and Personal Strength in Your Life.
"In my workshops, I always assert that when students feel connected, they are much less likely to dropout," he said in a recent phone interview. "The emphasis on relationships is a basic foundation of my work."
Brooks said that in his presentations for educators he emphasizes the lifelong role they can play in the lives of students.  He cites the work of the late psychologist Julius Segal who wrote that teachers can serve as adults from "whom a child can gather strength."
In a research project, Brooks asked 300 students what they thought teachers, school administrators, or other school staff can do on a regular basis to help them feel more welcome. "Two of the prominent answers were: Greet me by my name and smile."
In another research project, Brooks gave 1,500 adults a questionnaire and asked them to recall a vivid memory of something a teacher or school administrator said or did when they were students that helped improve their motivation and dignity in the school setting.
"One of the most frequent responses was when they were asked to help out," he said. "Perhaps a teacher asked the student to tutor another student, or help pass out the milk and straws. There is research that indicates when kids feel they are making a positive impact, when they experience a sense of purpose they are less likely to drop out."
Brooks also says teachers should help students learn to cope with the obstacles that inevitably arise in the learning process.  Students, like anyone, fear failure and humiliation. "If they have ways to cope, it can help them to be more resilient and help them to learn from rather than feel defeated by mistakes and setbacks." 
He also believes students become more invested in education if they have a sense of ownership, saying students should be given choices or decisions they can make about their education. "It may be courses they can take, assignments they can choose."
But the biggest factor, Brooks believes, is for students to develop positive relationships with school staff.
"I always highlight with teachers the power of the relationships they develop with students.  I say, 'Get to know them. Show interest in their lives. It doesn't take much time, and it will pay off in significant ways both in the short and long run."
The National Dropout Prevention Conference is Oct. 5-8, at the Gaylord Rockies Resort and Convention Center in Aurora. Participants from Colorado may use code COED2019 to receive a 10% discount for registration.
---
Seven teachers were selected as finalists for Colorado's Teacher of the Year for 2020. Later this month, one of these exceptional teachers will be chosen Teacher of the Year and will represent the entire profession in the state and will become Colorado's nominee for the National Teacher of the Year award.
"These seven teachers serve as inspiring examples among the thousands of teachers across the state who every day go above and beyond to teach our children," said Katy Anthes, Colorado's education commissioner. "These finalists are dedicated, innovative and are pushing our students to new heights. Any one of them would make an excellent Colorado Teacher of the Year."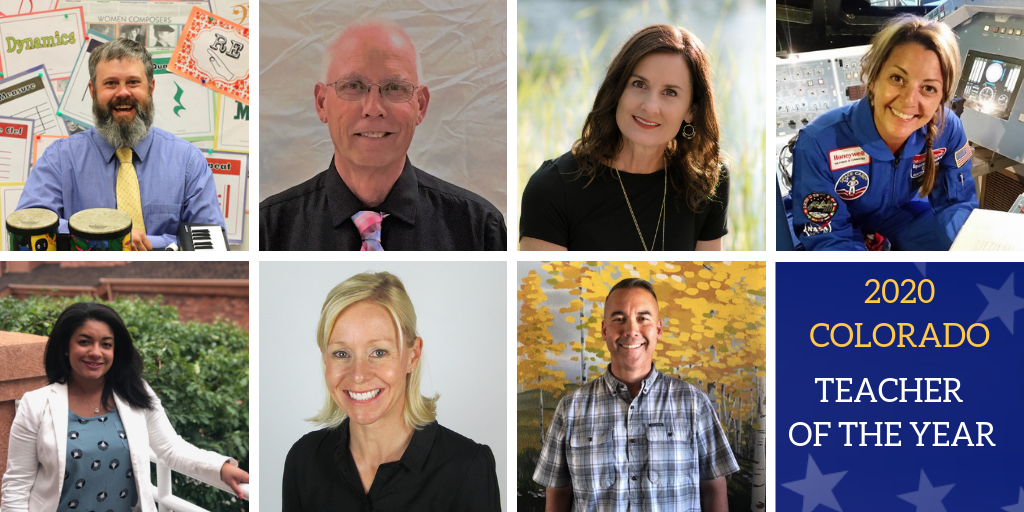 Get to know the 2020 finalists for Colorado Teacher of the Year:
Justin Bankey (Cactus Valley Elementary School, Garfield Re-2)
Justin Bankey is a general music teacher in Silt, where he directs exemplary musicals, orchestrates an award-winning choir and has taught band as well as academic classes. He believes in learning all you can, sharing all you know and that our kids are worth whatever it takes. Bankey has created a district-level arts calendar that organizes performances across the district's schools. He recently created a website that includes the new Colorado music standards, learning progressions and lesson plan sharing for all grades. Bankey has also been a driving force in revamping the school district's mentoring program, helping to acquire a Retaining Teachers Grant and assisted in developing a district-level training program for mentors.
Richard Green (Shelledy Elementary School, Mesa Valley School District No. 51)
Richard Green is a kindergarten teacher in Fruita, who has been in education for 39 years with the majority of his time spent teaching kindergarten. He is an active member in the school district who has served twice on legislative committees examining full-day kindergarten and helped form a state kindergarten association. Green loves working with children in many different roles, including volunteering as a community Santa Claus since 1993.  Full-day kindergarten for Colorado has been Green's biggest passion so far, and he actively advocated for full-day kindergarten funding in 2019. He is now working toward making kindergarten developmentally appropriate.
Claudia Ladd (McMeen Elementary School, Denver Public Schools)
Claudia Ladd is a first-grade teacher in Denver. She is a National Board certified teacher with experience in leadership, curriculum development, instructional coaching, standards alignment and 16 years of classroom teaching experience. Ladd firmly believes early literacy is the gateway to education and that classrooms must be the front line of equitable opportunity. Her professional purpose is to advocate for systemic change in education so that all children, regardless of zip code, can receive an equitable, joyful and rigorous education that inspires intellectual curiosity.
Machin Norris (Franklin Middle School, Greeley-Evans School District 6)
Machin Norris is an eighth-grade Integrated Science and STEM Teacher in Greeley. Prior to pursuing education, Norris was an emergency medical technician and field trainer. Educating others in EMS led her to further her career in public education. During Norris' nine-year teaching career, she has actively promoted STEAM (Science, Technology, Engineering, Arts and Math) education while capitalizing on the rich opportunities within the aerospace industry. Norris has a strong drive to develop global learners who will become better world citizens. She is an advocate for building and incorporating specific instruction to encourage students' global awareness. Norris  pushes her students to reach high; she consistently projects the philosophy that you can accomplish meaningful goals—even dreams -- as long as you are willing to sacrifice and work hard.
Erika Siemieniec (Sand Creek High School, School District 49)
Erika Siemieniec is a business teacher in Colorado Springs. Siemieniec has been teaching at Sand Creek High since 2011, when she started as an International Baccalaureate (IB) mathematics teacher who later transitioned to teaching business. Siemieniec often incorporates the community into her classroom through professional interviews, visiting local entrepreneurship pitch events, as well as hosting an advisory board of teachers, students, parents and community members. She is an advisor to a competitively successful Future Business Leaders of America (FBLA) organization and was head dance coach at Sand Creek High School. Siemieniec demonstrates outstanding development of the business pathway, and excitement and passion for the success of her students.
Hilary Wimmer (Mountain Range High School, Adams 12 Five Star Schools)
Hilary Wimmer began teaching business in 2004 and was part of the inaugural staff at Mountain Range High School in Westminster in 2006. She serves as the Career and Technical Education (CTE) department chair and high school business program coordinator. Wimmer leads the largest DECA program in Colorado and was recognized as the Colorado DECA Advisor of the Year in 2016. Wimmer heads the district-wide CTE professional learning teams in curriculum development and is building a common business curriculum for students in Colorado. She was named by the national Next Gen Personal Finance Organization to be one of the Next Gen Change Makers with the goal of ensuring all students leave high school financially literate.
William Yerger (Horizon Middle School, School District 49)
William Yerger is a middle school enrichment teacher in Colorado Springs. He teaches seventh-grade forensics and eighth-grade health science. He holds a license as a registered nurse in Colorado, Career Technical Education certification in health science and is an instructor for the American Heart Association. At Horizon Middle School, William  worked to establish a partnership with the Make-A-Wish Foundation for students and the school community to provide sponsorships for children participating in the program. Yerger believes the goal of teaching is to provide students with the knowledge and skills necessary to become contributing members of society. By using project-based learning, he helps to make those real-world connections and valuable learning experiences for students.
Visit this webpage for more information about the Colorado Teacher of the Year program.
---
Research shows what teachers already know – that schools thrive when they build positive and supportive relationships with families and the community.
That's why CDE highlights schools and districts that are trying new and innovative ways to build those family-school partnerships. For five years the State Advisory Council for Parent Involvement in Education (SACPIE) has compiled the best examples in its Promising Partnership Practices booklet, which features a collection of initiatives from districts and schools on how they work with families and community partners to boost their students' success. More than 50 schools and their practices are featured in the 2019 booklet, which is produced every year to highlight and laud the efforts around Colorado.
"A half-century of research has made it clear that successful schools have developed strong partnerships with families and the communities they serve," said Darcy Hutchins, director of Family School Community Partnerships.
The practices were categorized into the six Family, School and Community Partnering Standards:
Welcoming all families into the school community
Communicating effectively
Supporting student success
Speaking up for every child
Sharing Power
Collaborating with the community
To recognize these efforts, Colorado Gov. Jared Polis proclaimed October to be Family and School Partnership Month.
Here are examples of excellent family-school partnerships collected this year:
Cooking Matters for Families at Kullerstrand Elementary School, Wheat Ridge, Jefferson County School District
Ten groups, consisting of a student and a parent, met for two hours each Monday night from February through April at Kullerstrand Elementary School to take cooking classes taught by a volunteer chef and nutrition educator. Lessons covered meal preparation, grocery shopping, food budgeting and nutrition. Participants practiced fundamental food skills, proper knife techniques and how to read ingredient labels. The goal was to make a healthy meal for a family of four on a $10 budget.
Grandparent Coffee Time at the Early Childhood Education at Maddox, Englewood School District
Staffers at the Early Childhood Education Center at Maddox began noticing a large number of grandparents dropping off and picking up students every day. The principal and family liaisons decided to create a Grandparent Coffee Time group, which began meeting twice a month to help foster support, share ideas, advocate for their grandchildren and improve the ECE. The group of about eight to 10 grandparents brainstormed on what it would like to accomplish. The group decided its members would love to learn more about technology, how to volunteer at the school and how to share resources. The group gave the opportunity for grandparents to contribute to a positive school climate. It also was a way to welcome all family members, and support two-way communication between families and the school.
No Student Goes Hungry, Kenton Elementary School, Aurora Public Schools
Kenton Elementary has the highest percentage of homeless families in Aurora Public Schools (APS). It is common for students to come to school without coats, socks, proper shoes, breakfast or lunch, and some without a good night's sleep. Kenton staff members created a program that provides every family in need with healthy food for consistent meals, seven days a week. One portion of this initiative is called "Super Snack", which is part of APS' nutrition services. Kenton's assistant principal, family liaison, and parent volunteers help after school by making sure all students receive a snack and milk in the cafeteria before going home. Teachers bring their students after school to pick up a "Super Snack" and eat it before the after school program begins. Kenton staff members also continue the "No Student Goes Hungry" initiative during lunch. Cafeteria managers and staff members have the students line up, get lunch, and then walk around the tables to inspect the students' lunches. If a student brings something small from home to eat, they are encouraged to also eat school lunch to make sure they are eating from all the five food groups. Kitchen managers and staff also provide breakfast to all classrooms in the morning and help clean up so that all students get to eat before class lectures begin.
---
For most people, October means fall festivities, like visiting a pumpkin patch, going to see the beautiful fall leaves and dressing up for Halloween. For those in education, October also means awareness, prevention and appreciation celebrations all month long. To help you stay informed about all of these important happenings, we put together a list for you.
October month-long events
October National Weeks
World Space Week October, Oct. 4-10, is a celebration of science and technology and the contributions of these two areas of study to our society. Learn how to get involved and organize an event at your school.
Classified School Employees Week, Oct. 7-11, appreciates classified staff who often work outside of the classroom to enable teachers and administrators to focus on teaching and learning. This includes staff who work in front offices, in school lunchrooms, in janitorial and maintenance services and so much more.
Earth Science Week, Oct. 13-19, helps increase public understanding and appreciation for the Earth sciences and encourages stewardship of the Earth. Find educational resources and tools to plan an event.
National School Lunch Week, Oct. 14-18, promotes the importance of a nutritious school lunch and the impact this can have on a student's health and success in school.
National School Bus Safety Week, Oct. 21-25, recognizes and appreciates all school bus drivers and school transportation professionals who are focused on school bus safety and security. Recognize your school bus drivers this week!
October National Days
National Stop Bullying Day – Wednesday, Oct. 9
---
The Hub is a platform that connects health and education stakeholders across Colorado with a broad array of resources, including peers, organizations, programs, professional development, toolkits, templates, research and more.
---