You are here
March 2018
Jump to a section:
---
Dear Educators,
Last year the State Board of Education had the privilege of honoring legendary teacher Marie Greenwood, Denver's first black tenured teacher. At 105 years old, Marie is still full of energy and spirit, and most importantly, advice for all of us working to support Colorado students.
She had a lesson for our board that still resonates, reminding us of the importance of providing a good education in the earliest grades and likening quality education to building a house. "It must start with a good foundation," she said.
I often think of her words and reflect on the decades of experience that have made her so wise. We need to listen to Marie Greenwood and other experienced teachers who know that high quality preschool and literacy programs provide tremendous benefits to students, families and our state as a whole.
That's why supporting quality early learning and literacy is one of the key tenants of the Colorado Department of Education's new strategic plan. We know – and you know – that focusing and prioritizing support for our youngest students and their educators will result in more students reading at grade level by the end of third grade and build a stronger foundation for continued success in school and in life.
We've set a bold goal for our work, one that can be achieved only through tremendous partnership with you, our educators. We'd like to reduce the number of third-graders identified with significant reading deficiencies from 17 percent in 2017 to 12 percent by 2022.
Some will say, and I don't disagree, that we should set our sights on zero kids having a significant reading deficiency.  But I also believe in setting ambitious yet achievable metrics for our work, and we think that a 1 percent reduction for each of the next five years is indeed achievable if we work together.  
The READing Foundations Academy and the Early Literacy Grant are two programs offered through the state that have shown great results in improving reading proficiency. By focusing on these and other successful strategies, we can indeed move toward 100 percent reading proficiency by the end of third grade.
We've recently reorganized our own staff here at the department to better coordinate and focus on our work to support preschool through third-grade education. Dr. Floyd Cobb, our executive director of Teaching and Learning, will lead this work with support from our new director of the P-3 office, Anji Gallanos. Please reach out to them if you have ideas on how we can improve our support to you. Contact Floyd at cobb_f@cde.state.co.us or Anji at gallanos_a@cde.state.co.us.
Ms. Greenwood has an elementary school in Denver named after her because of her years of experience and wisdom. Let's continue to honor her by building a strong foundation for all students.
Sincerely,
Katy
---
Teachers have until April 20 to comment on proposed state rules about how to ensure educators are prepared to support our state's English language learners (ELLs).
As proposed, the rules would require:
All educator preparation programs to ensure ELL educator standards are fully taught and practiced. 
Current core content-endorsed teachers (in math, science, English, social studies and elementary) to demonstrate they have completed three semester hours, or 45 clock hours, of training on educating ELLs within their five-year license renewal cycle. Credit would be given for relevant professional development.
Waivers from these requirements would be available for districts with an average of 2 percent or fewer ELLs enrolled over the last three years.

Colorado has the sixth most ELLs in the country with a total of 128,274 students learning English as a second language or 14.1 percent of the student population. In the past 10 years, English learners have increased by 26.2 percent in Colorado's student population. That is more than double the growth rate of the entire student population, which has increased by 11.2 percent. At the same time, fewer than 5 percent of the state's licensed teachers have endorsements in culturally and linguistically diverse education or specialize in teaching ELLs. 

The disparity in the number of teachers qualified to teach English language learners hasn't gone unnoticed. The U.S. Department of Justice's Civil Rights Division has inquired about how Colorado ensures English language learners receive an equitable education. For more information, visit the Helping Educators Teach English Language Learners webpage.
View frequently asked questions about supporting ELLs (PDF).
View the fact sheet about professional development pathways for teaching English learners (PDF).
Additional proposed changes to educator preparation and effectiveness rules include:
Updating Teacher Quality Standards
Revisions to rules around educator endorsements, including adding an endorsement for middle school math and expanding pathways to school counselor and school nurse endorsements.
The Colorado State Board of Education approved the notice of rulemaking earlier this month. Educators and members of the public may give feedback directly to the board about the proposal. Written feedback may be submitted online or in an email to the board at state.board@cde.state.co.us by Friday, April 20. Provide specific feedback about ELL training on the first section of the online form: Rules for the Colorado Educator Licensing Act of 1991 (1 CCR 301-37).
Public hearings for proposed rules will be held on the proposed rules Thursday, May 10.
---
Smartphones are tucked away in almost every pocket. Personal computer assistants like Alexa or Siri are ready to answer any question. Google is consulted for every research project. Today's students use technology more than any generation before them. 

That's why the state legislature passed a bill last year requiring CDE to develop voluntary computer science standards for secondary students. These standards are meant to give students the skills they will need to use the technology at their fingertips in smarter and safer ways.

The computer science standards committee was assembled in April 2017 with experts from around Colorado. This team has met five times to consider what will guide and inspire teachers and students alike in education and the workforce. 

Bobbie Bastian, a computer science instructor at Bollman Technical Education Center in Adams 12 Five Star Schools, is excited for the new standards.

"This will have a positive impact on both education and the economy. It will allow more Colorado jobs to be filled by Colorado residents instead of having to try to attract talent from other states," he said. "It will also allow students to explore career opportunities and pathways earlier."

Chuck Powell, a computer science and engineering teacher at Green Mountain High School in Jefferson County, serves on the computer science standards committee. He sees these new standards as an opportunity for students and the state as a whole.

"There will continue to be many careers in computer science and many other careers that require an understanding of computer science, so it will benefit both our students and our state to increase and improve our computer science offerings," he said.

Public feedback collected about the draft computer science standards was presented to the State Board of Education at its monthly meeting in March.  Commenters asked that the standards place more of an emphasis on ethics and accessibility. The board is expected to vote on adopting the new standards at its April meeting.
Keep up with the work on the computer science standards committee webpage.
For questions, contact Joanna Bruno, CDE's science content specialist, at bruno_j@cde.state.co.us or 303-866-6571.
---
For the last few years, our state shared control of our math and English language arts assessments with the states participating in the Partnership for the Assessment of Readiness for College and Career – or PARCC. The Colorado State Board of Education in 2016 directed the department to take sole control of our assessments, make them shorter and get results back sooner. 

While the skills and knowledge your students need for these assessments remain the same, we have begun to address the board's directives:
This year, while the Colorado Measures of Academic Success (CMAS) English Language Arts (ELA) and math assessments will consist of items from those jointly developed with the PARCC states, the actual tests are unique to Colorado. The content covered and the item types are those your students have been seeing over the last few years.
Educators from across the state have been working with department staff to develop new items which will be field tested in the ELA and math assessments this year. It will take years to fully develop Colorado-only items for all the assessments in grades three through eight, so in the meantime, Colorado will continue to use some PARCC items for its English language arts and math assessments.
CMAS math and ELA assessments will be shorter. The number of math sessions is reduced from four 60-minute sessions to three 65-minute sessions. While ELA will continue to have three sessions, the stand-alone English language arts field testing session has been eliminated with all ELA sessions at a grade level being made the same length.
As with last year, individual student-level files will be available to districts by the end of June, and student reports will be sent to districts in July.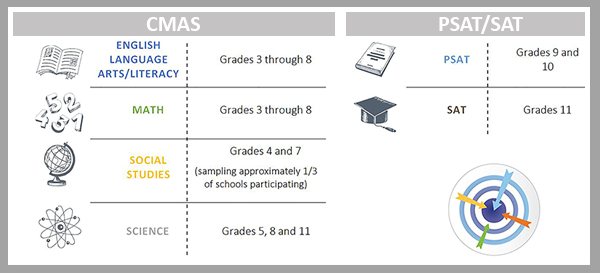 Our goal is to ensure comparability of data from year to year, so this work has been complex. Many thanks to the Colorado educators who have volunteered to work with the Department of Education to help develop new items for CMAS. If you would like to be added to the development educator pool, please submit your information through Pearson's Colorado educator database.
 
Sample communication materials are available to help communicate with parents about the upcoming assessments. All sample parent resources are on the CDE website. 
A little bit of background on the CMAS assessments
CMAS assessments are the state's common measurement tool of student progress in English language arts, math, science and social studies. The science and social studies tests were developed by the Colorado Department of Education, Colorado educators and testing contractor Pearson. 
The English language arts and math assessments were initially developed in collaboration with the states from PARCC. Colorado is currently working to develop its own test items for CMAS English language arts and math assessments, but while that work is underway, PARCC items will continue to be used.
---
Keeping track of education-related legislation is never easy for the outside observer. Bills can come and go quickly and get dramatically changed after they are introduced. 
Nevertheless, several websites are available for tracking legislation related to teachers and K-12 education in general as it winds through the statehouse. As of mid-March nearly 125 education-related bills had been introduced.
Some key education-related bills that are being considered this session include:
HB-18 1002 would help provide teacher fellowships to districts dealing with a shortage of teachers.
HB-18 1095 would exempt military spouses from having to have three continuous years of teaching in order to get a license.
HB-18 1130 would require teachers coming from other states to demonstrate three years of experience, but those years do not have to be continuous.
HB-18 1189 would create the teacher residency expansion program.
HB-18 1232 would create a new school funding distribution formula.
HB-18 1276 would mandate funding instruction of history and civil government of the United States and Colorado, including but not limited to the history, culture and contributions of American Indians, Hispanic Americans, African Americans and Asian Americans.
The most comprehensive link is the General Assembly's webpage, which allows users to search and find information about every bill and even those from previous sessions.
Additionally, other websites outside of government offer similar information for free:
If you are looking for specific education-related legislation, it is always good to keep tabs on what is happening in the legislative education committees. Both the House and the Senate have education committees that consider matters concerning K-12 public schools, including public school accountability and school finance. 

In addition, the committees have legislative oversight responsibility for the Department of Education and the Department of Higher Education. 
If you would like to find your legislator, follow this link on the Colorado General Assembly's website. You can enter your home's physical address, and the website will provide you information about your representative in the house and senate. It also will include a link to the legislators' websites, email addresses and phone numbers as well as a demographic snapshot of the district.
---
The 21-member teacher's cabinet created by Education Commissioner Katy Anthes met on March 1 to discuss a variety of topics, including feedback to provide to the Educator Leadership Council – a panel created by Gov. John Hickenlooper to develop a vision for Colorado's public education system. 
In a lengthy discussion, the teacher cabinet members said a greater focus on project-based learning and soft skills as well as increasing the number of school counselors would help the state create a stronger educational system. 
In addition, the cabinet members offered ideas on how the schools could build stronger industry partnerships, create more robust community and family partnerships and elevate the teaching profession.
For example, the teaching profession could be elevated through stronger paraprofessional-to-teacher pathways, paying salaries to student teachers and developing mentorships for new teachers. In addition, giving teachers more flexibility on the type of professional development could be an effective strategy.
Learn more about the commissioner's teacher cabinet and its members.
---
Grand Valley High School in Parachute first began offering Advanced Placement classes for all of its students in 2012-13 and has seen participation and achievement continue to rise. Said Principal Ryan Frink, "The myth that AP is just for the smartest, most driven kids, it's an obsolete concept. You focus on differentiating instruction and focusing on the skill levels of kids. The philosophy is lifting the lid off education."
Read the full story and watch the video on the Colorado Education Highlights webpage.
---