You are here
The SPARK - April 2019
Jump to a section:
---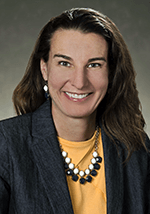 Hello Teachers,
This has been an incredibly tough month for everyone in the education world in Colorado.  
There were the usual pressures as the school year winds down, but there were also state tests to administer, bomb cyclones to endure and finally an unprecedented closure of schools due to a credible threat that put everyone on edge.
I am incredibly grateful to everyone for how they have handled these intense days. It was stressful for all of us, but especially for our children, who through no fault of their own inherited a world that sometimes does not make sense.
Naturally, in times like these, children look to adults to help them understand what is happening and how to react. Teachers can help children feel safe by establishing a sense of normalcy and security and talking to them about their fears. The National Association of School Psychologists has created clear and well-researched tips about how to talk to children about violence. Please take some time to read through this tip sheet. It is reassuring to know that there are well-thought-out methods and talking points that actually work to help kids process events like these.
But you, too, need to take some time and practice self-care. Of course it is important that we focus on our students and put their needs first, but it is also important to recognize that you are also living through this stressful moment.
I hope in the coming days that you can take some time away from the classroom for yourself. Get some sleep, eat well, go for a long walk, reach out to a longtime friend, watch a funny movie. Do something to reconnect the wires and calm the waters.
In this edition of The Spark, we asked Terry Highfield, a teacher from Greeley-Evans District No. 6, some questions about what he would tell his younger self as he became a first-year teacher 20 years ago. "Put your family first. Teaching requires a lot of heart and soul.  Make sure that you give your best to the people that matter most in your life. Be patient and show grace to yourself, your students (and their families), and your coworkers."
These are words to live by.
I am constantly amazed by the work you do every day in our classrooms. And I am humbled by how you have devoted yourselves to teaching and supporting our children. In times like these, my respect grows even stronger.
Please, take care of yourselves and know that you are valued.
Sincerely,
Katy
---
Terry Highfield, who has taught for 20 years, is a library/technology teacher at S. Christa McAuliffe S.T.E.M. Academy in Greeley. The Spark is reaching out to teachers throughout Colorado for monthly question-and-answer articles about general teaching topics. Mr. Highfield is a member of the Commissioner's Teacher Cabinet, which meets periodically to brainstorm solutions for some of the challenges facing educators today.
The Spark: Why did you become a teacher?
Terry Highfield: As a child, my teachers always made a big difference for me.  I always appreciated the way my teachers did everything they could to make learning meaningful and fun.  I always knew that they were in my corner, going beyond what teachers normally did and advocating for what was best for me.  I became a teacher, because I really wanted to have an opportunity to be that person for my own students.
The Spark: What do you like about being a teacher? What are the best parts of your job?
Highfield: After many years teaching third- and fourth-graders in the classroom, this is my first year working as the school's library/technology teacher. I love that I get to work with students from kindergarten through eighth grade.  Each day is a new adventure with new challenges that keep me mentally stimulated. It is never boring, and working with a supportive educational community is uplifting.
The Spark: You've been a teacher for 20 years. If you could go back in time, what would you tell yourself 20 years ago when you entered the profession?
Highfield: If I could go back in time, I'd tell myself a number of things:
Put your family first. Teaching requires a lot of heart and soul.  Make sure that you give your best to the people that matter most in your life.
Be patient and show grace to yourself, your students (and their families), and your coworkers.
Never stop pursuing life as a learner.
Maximize your time. You will not have time to do it all, so focus on what is most important.
Be on the lookout for opportunities and roles that allow you to follow your teaching passions.
Surround yourself with energetic peers with whom you can grow.
Never stop seeking out feedback that will help you grow.
Build for the future, by providing a foundation for future educators (practicum students and student teachers).
Remember that when life gets crazy, it is ok to say no to new opportunities. You are just providing an opportunity for someone else to step up.
The Spark: What improvements could be made to the profession?
Highfield: Teaching is a rewarding career, but the journey can be tough.  Educators would definitely benefit from a greater level of differentiated support and a wider variety of opportunities for growth. Many new teachers will tell you they would benefit from a more tailored approach to support, such as more intentional student teaching placement, ongoing, immersive collaboration and feedback with mentor teachers, flexible training opportunities, and peer support groups. There should be greater opportunities for advancement (without going into administration), such as mentor or lead teaching opportunities, peer coaching or evaluation roles, as well as opportunities for leadership based on individual strengths or passions.
The Spark: One thing we have heard is teachers feel they are undervalued. Do you believe that is true and what do you think could be done to raise up the profession?
Highfield: When the culture is founded on trust and shared ownership, teachers definitely feel more valued. They know they are part of a team of educators, families, and community members that are driving success. When a culture of blame and mistrust exists, teachers can feel undervalued, shouldering the blame for struggles in education. We are the voice of education, and we all have the responsibility to speak up and speak out at every opportunity to shine the spotlight on the great things that are happening. The more we demonstrate the impact of our work, the more value the teaching profession will gain.
The Spark: You teach at a STEM academy for elementary students. Can you describe what it's like to teach science and technology to elementary students?
Highfield: Even before I taught at a STEM school, I tapped into science and technology to increase the level of student engagement.  Students thrive on hands-on learning, creative problem solving, and collaboration. As the library/tech. specialist at a K-8 STEM school, I am able to experience first-hand the growth that is taking place from one grade to the next. I am able to witness the increase in critical thinking and problem solving skills. It is amazing to watch students make connections and become engaged in solving problems in the makerspace through robotics and coding, hands on building, and creative collaboration.  It is fascinating to see how students at each grade level experience learning in different ways. 
---
House Bill 19-1186: Recent legislation intending to make the fingerprinting process smoother for teachers by allowing third-party vendors to administer fingerprinting instead of just law enforcement agencies actually made it more difficult for some teachers who couldn't locate a nearby third-party. This legislation attempts to fix that problem, requiring law enforcement agencies with "federally approved fingerprinting devices" to take fingerprints for licensure if a third-party vendor isn't operating within 20 miles of a school district, charter school or nonpublic school.
House Bill 19-1036: Under current law, the Colorado Department of Education awards $1,600 stipends to teachers or principals who hold a certification from the National Board for Professional Teaching Standards (NBPTS), and an additional $3,200 (for a total of $4,800) to NBPTS-certified teachers or principals working in a low-performing, high-needs school. This bill adds school psychologists who hold a certification from the National Association of School Psychologists and meet the other program requirements to list of eligible school professionals who qualify for the stipends. The bill also corrects the name of NBPTS and clarifies that school counselors are eligible for the program, in order to align with current practice.
Senate Bill 19-003: This bill revises eligibility requirements of the educator loan forgiveness program, which repays up to $5,000 of qualified educational loans for up to five years for teachers and other educators employed in qualified positions under the program.

Senate Bill 19-009: This bill removes the limit on the number of stipends that can be distributed and increases the amount to $4,000 for students enrolled in teacher preparation programs who agree to teach in a rural school or rural school district. The bill also allows an unlimited number of awards for educators in rural schools and rural school districts who are seeking certification as a national board certified teacher (NBCT), certification as a concurrent enrollment teacher or who are completing an alternative licensure program that leads to employment in a rural area.
---
Wednesday, May 1, is Decision Day, which honors pathways that graduating high school students take - whether it is to attend a university, community college, private occupational school, apprenticeship or serve in the military.
Over the past several months, high school seniors have been researching options, applying to programs, preparing for the ASVAB and filing out the FAFSA. Decision Day celebrates their hard work and recognizes their achievements.
On this day, which used to be called College Friday, students, staff and community members are encouraged to wear gear from their favorite schools, alma maters or future programs on Decision Day to support students' education aspirations. Register your school and access helpful resources on the College in Colorado website.
---
It is understood that there are many reasons why teachers wouldn't take the time out of their busy schedules to apply to be considered for the Colorado Teacher of the Year. But here are some reasons why it may be worth the time and effort to submit your application.
Becoming Colorado's Teacher of the Year is more than just an incredible honor as being chosen to be the state's representative for the profession. There are plenty of other incentives to turn in an application, including:
Becoming Colorado's nominee for the National Teacher of the Year Award.
Attending events run by the Council of Chief State School Officers (CCSSO), including:

The National Teacher of the Year Induction Program with other state teachers of the year.
A White House visit and meeting the President.
The National Teacher of the Year gala.

A week at NASA Space Camp, where teachers participate in a version of astronaut training designed to help educators take strategies and concepts back to their classrooms, including design thinking and project-based learning.  
Being an honored guest at the College Football Playoff National Championship Game.
How to apply: Submit an application by Wednesday, July 10
Not sure if you're ready to apply just yet? Nominate one of your peers instead
If you know an exceptionally dedicated, knowledgeable and skilled K-12 teacher who inspires you, nominate them to apply for the 2020 Colorado Teacher of the Year award!
---
CDE has compiled a list of resources to help parents and educators communicate with students about safety and crisis affecting our schools.
View the resources on CDE's website.
---