You are here
The SPARK - August 2019
Jump to a section:
---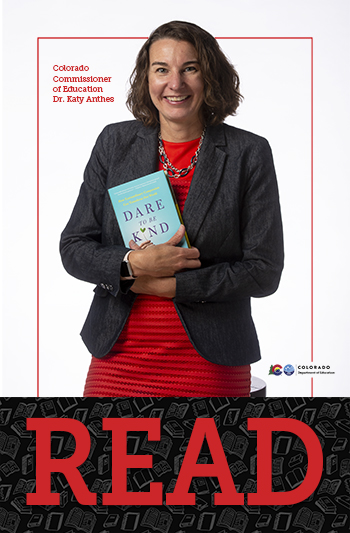 Dear Educators:
Welcome back to school! I hope you all had a relaxing break over the summer, and that you're as energized about the 2019-20 school year as I am.
All of us at the department have been busy throughout the summer getting ready for the new school year. We've been preparing for the release of our CMAS assessment results, and we've been working hard to implement all the education-related bills the legislature passed in 2019.
One bill that's particularly important for you to know about is the update to the READ Act contained in Senate Bill 19-199.  I'd like to share a little bit of history about the READ Act, and where we are now with implementation of the updates to the law.
Colorado leaders recognized years ago that reading is a critical skill that must be developed early in a child's educational career. Our state leaders invested millions of dollars in the READ Act, passed in 2012, to ensure that students learned to read by third grade. However, after six years of implementation of the READ Act, schools and districts, overall, were not seeing the dramatic improvements in reading levels envisioned by state leaders.
For example, as a state, we've seen only a 2 percentage point increase in students meeting or exceeding expectations on third grade CMAS English language arts tests. And, we've seen only a 1 percentage point reduction in the number of students identified with a significant reading deficiency.
We learned a lot over the past six years of implementation. We know that we need to listen to the wisdom of teachers, school leaders and parents to better understand why we are not making as much progress as we have hoped to see. And we also learned that we needed to step up our efforts to ensure that all teachers have training in evidence-based practices for reading instruction.
The updates to the READ Act emphasize the importance of using scientifically based instructional practices. Reading proficiency doesn't just happen. There is a science to teaching reading that has been proven to be successful, and we need to make sure that all teachers can benefit from solid training around this science. At the same time, parents also need an understanding of the strategies that are proven to help their children learn to read.
The Colorado Department of Education is renewing its commitment to supporting districts, schools, teachers and families as we work together to help students read at grade level by the end of third grade. Over the coming year, you'll see news and updates here about how and where teachers can obtain the required training if they haven't already received training in evidence-based reading instruction. 
I'm excited about the potential of the updated READ Act to make a positive difference in students' reading proficiency. I continue to be incredibly proud that Colorado has prioritized reading for our youngest learners and invested heavily in strategies to improve reading proficiency. But the real linchpin to reading achievement is you, our incredibly dedicated and talented teachers. I know that with the right support, you will ensure that all students have a strong foundation in reading that will set them up for success throughout school and life.
My best to all of you as you prepare for a successful school year!
Katy
---
Teachers are being sought to be ambassadors for the U.S. Census Bureau's Statistics in Schools (SIS) program, which helps teachers use statistics from the census to develop classroom plans. Ambassadors are needed from every state to promote the use of census statistics and help make people aware of the coming 2020 Census. Ambassadors can receive instructional content, support, recognition, networking opportunities, promotional items, and more.
For the 2019-20 school year, new SIS materials will be released that teach students about the importance of the 2020 Census count, and empower them to share this knowledge with adults in their homes. 
If you are interested or know anyone who could be, download this PDF flyer for more information. The deadline to apply is Saturday, Aug. 31. 
Watch for more information about how to make the census part of your instruction this year in future editions of The Spark.
---
The Education Commissioner's Teacher Cabinet seeks eight to 10 new members to join the advisory group to share their hands-on classroom experience while helping shape statewide education policy.
Teachers will join continuing cabinet members and meet four times a year to advise Colorado Education Commissioner Katy Anthes and share how education policies and rules created at the state level unfold in classrooms across the state. The members serve for two years, beginning in October 2019. 
The advisory group is made up of teachers from around the state, representing small, medium, large, rural, suburban and urban school systems.
Cabinet members are chosen to brainstorm solutions for some of the state's most vexing educational challenges, such as addressing teacher shortage and retention, increasing achievement among all students and improving school safety. 
Commissioner Anthes created the Teacher Cabinet in 2017 to add educator voices to groups who already advise her on key education topics, including the Commissioner's Superintendent Advisory Board and the Rural Education Council. The Commissioner's goal for creating the Teacher Cabinet was to connect directly with teachers who can offer their local perspective and ensure policy makers and legislators also hear the voice of practicing teachers.
To be considered, please fill out this application (DOC) and submit it by Thursday, Aug. 15, along with a résumé, narrative, signatures and letters of recommendation.
For more information, visit the Commissioner's Teacher Cabinet webpage. 
---
Want to teach in the Land Down Under? 
Applications to become an exchange teacher in Australia for the 2021 calendar year are available. These are full-year direct exchanges, which involve trading jobs and housing for a full year with a teacher from Australia. Teachers must have at least four and a half years of teaching experience, three years in your current school district (be non-probationary), hold a Colorado educators license and obtain district/school approval. 
Your family would accompany you. Information and applications can be found at www.coloradoteacherexchange.us. The program is facilitated by Colorado Education Association and the Colorado International Teachers' Exchange League (CITEL).
Here is a list of informational meetings to be held across the state: 
Northwest Metro - 6 p.m., Thursday, Aug. 29, 10510 Garfield St., Thornton. Contact: Janice Carrel, jcarrel@usa.net or 303-457-0985.
Southwest Metro -  6 p.m., Wednesday, Sept. 4, 3474 W. Ada Place, Denver. Contact: Maria Laarman: 303-960-6182.
Lakewood - 6 p.m., Wednesday, Sept. 4, 2751 W. Dakota Ave., Lakewood. Contacts: Chris and Michelle Miller, Cmilla229@yahoo.com, 303-842-3317 or Michkieft@gmail.com, 303-842-4695.
Boulder - 6 p.m., Thursday, Sept. 5. Eisenhower Elementary, 1220 Eisenhower Drive, Boulder. Contact:  Sam Palsmeier, 720-561-6750 or Samuel.palsmeier@bvsd.org.
Broomfield - 3 p.m., Sunday, Sept. 8, 13897 Barbour St., Broomfield. Contact:  Anne Shuck, gibbanne@yahoo.com or 303-564-1498 (text or call).
Southwest Metro - 6 p.m., Wednesday, Sept. 18, Mortensen Elementary, 8006 S. Iris Way, Littleton. Contact:  Karla Hankins, kbhankins@msn.com.
Colorado Springs - 6:30 p.m., Thursday, Sept. 12, 2550 Kinderhook Lane, Colorado Springs. Contact:  Rhonda Sobecki, Rhonda.sobecki@gmail.com or 719-338-8370.
Grand Junction - 6 p.m., Tuesday, Sept. 17, Mesa County Public Library, 443 N. Sixth St., Grand Junction.Contact:  Carolyn Sandeen-Hall, gcshall@aol.com.
Cortez/Durango - Contact: Barb Grist, barbaragrist@gmail.com.
Steamboat Springs - Contact Doug and Jo Smith, dougandjosmith@gmail.com.
---
CDE seeks teachers to volunteer to serve on the Dyslexia Working Group and the Media Literacy Advisory Committee - two legislative committees to help lawmakers make decisions about these important topics. 
The Dyslexia Working Group was created by the state legislature from House Bill 19-1134. The committee will analyze state and national data and practices concerning identification and support of students with dyslexia. The group is mandated to include two elementary school teachers, one of whom teaches in a rural or small rural school district, as well as parents of children with dyslexia, district officials and state and national dyslexia experts. Learn more about the group by following this link. 
The Media Literacy Advisory Committee was also created by the legislature from House Bill 19-1110. The group will create a report for the House and Senate education committees with recommendations for how to implement media literacy in elementary and secondary education. The legislation mandates including two teachers -- one from a rural or small rural school district and another from a non-rural school district. The committee also will include a librarian. For more information about the Media Literacy Advisory Committee, follow this link. 
Applications for both groups are due Friday, Aug. 9.
Click here to access the Dyslexia Working Group application.
Apply for the Media Literacy Advisory Committee by clicking here.
---
Rural K-12 teachers can get stipends offered through the Colorado Center for Rural Education and the Colorado Department of Higher Education to learn how to teach Concurrent Enrollment classes and to become nationally board certified. 
Concurrent Enrollment Educator Qualification Stipend: Teachers in rural districts interested in becoming qualified to teach Concurrent Enrollment classes can apply for a stipend of up to $6,000. The money can be used to offset tuition and fees for programs offered by one of Colorado's institutions of higher education. The deadline to apply for the 2019-20 school year is Sunday, Sept. 1.

National Board Teacher Certification (NBTC) Stipend: Selected members of a Colorado Rural National Board cohort can receive a $4,250 stipend as they receive support and mentorship from NBTC facilitators. The stipend covers enrolling with the board, registering for each of the four components of the board portfolio and participating in the Rural National Board Cohort. The application deadline for the 2019-20 school year is Sunday, Sept. 15.
For more information visit the Colorado Center for Rural Education webpage or contact Valerie Sherman, rural education coordinator for the Colorado Center for Rural Education at 970-351-3061 or Valerie.sherman@unco.edu.
---
Join CDE at the National Dropout Prevention Conference, Oct. 5-9 in Denver. Use code COED2019 for 10 percent off registration.
---