You are here
Colorado School District Community Needs Inventory - Spring 2020 Results
Return to the main Needs Inventory page
Resources and Supports dedicated following Spring Needs Inventory
From the ESSER state set-aside dollars, Commissioner Katy Anthes directed $2 million for the Connecting Colorado Students Grant (CCSG) Program, allowing school districts to provide broadband access to low-income families and school staff.
CDE collaborated with Governor Polis' Office, the Office of the Attorney General, and service providers to expand access to devices and internet connectivity through T-Mobile's Project 10Million, which will provide up to 34,000 low-income student households in Colorado with free WiFi hotspots and 100GB of data per year for free.
Governor Polis worked with CDE to increase the capacity of Colorado Empowered Learning (CEL). CEL is a state-supported supplemental online program that provides Colorado school districts, BOCES, and charter schools with access to fully designed online courses, LMS platform options, professional development, and technical assistance for implementing blended and online learning models. Up to $6 million from the Governor's Education Emergency Relief (GEER) funds were allocated to support this work.
CDE also allocated another $2.6 million of the ESSER funds for special education students and tribal students as well as districts and BOCES that did not receive funding from earlier ESSER distributions.
CDE's online Toolkit to support school districts in the 2020-21 school year includes resources for educators concerning wellbeing and connectedness and support for individual student needs.
Spring Needs Inventory Results
The Colorado School District Needs Inventory was administered by CDE, in collaboration with the Colorado Education Initiative (CEI), from March 27 to April 4. Superintendents, BOCES directors and charter and approved facility school leaders were encouraged to complete the needs inventory to share the needs of schools and districts across the state, including support for learning at home and the general needs of the surrounding community.
Results of the needs inventory reflect data collected as of Wednesday, April 15. CEI provided data management, analysis and reporting of the needs inventory results and conducted brief regional follow-up interviews in mid-April.
Regional analysis of the needs inventory was conducted based on the eight regions in the map to the right. View the district/BOCES-level findings of the needs inventory with regional follow-up data (PDF).
Inventory results include:
A total of 370 respondents, with 184 of those representing districts or BOCES and 186 representing charter schools.
Nearly 91% of Colorado districts/BOCES which serve 90% of the state's public school students. Of the responding school districts, 83% represent rural communities.
Only reflect the school district or BOCES responses; charter school responses were shared with CDE's Schools of Choice office for review and follow-up.
Region Information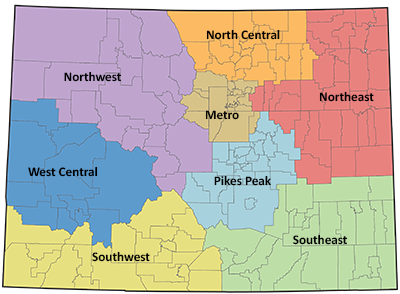 Needs inventory highlights
The top four education supports identified as the top priorities across all regions of the state were: student emotional support, technical supports for delivering remote learning, online instructional support for teachers and family engagement practices.
The estimated number of students without access to a Wi-Fi-enabled device is 52,918 statewide or approximately 6% of students in the represented districts/BOCES.
The estimated number of students without access to the internet at home is 65,860, or approximately 8% of students in represented districts/BOCES.
While there was variability in the top community need identified across regions, internet connectivity and food access were the two community needs that commonly appeared as a top need in most regions across the state.
Every region elevated mortgage and rent support as a top need except the Southeast Region.
Three-fourths of regions indicated that unemployment assistance was an urgent community need.
Mental health and counseling services for either students or families were prioritized in 50% of regions.
Top Education Supports Needed Across Colorado School Districts
Student Access to Devices
Student Access to Internet
---
Contacts
CDE - Aligning Needs & Resources