Colorado, in conjunction with the Nation Title I Association, has been selecting examples of superior Title I school programs for recognition through the National Title I Distinguished Schools program since 2006. Schools are selected in one of two categories:
Category 1: Exceptional Student Performance for Two or More Consecutive Years
Category 2: Closing the Achievement Gap between Student Groups
Schools are selected based on a combination of academic achievement of the students in the school and the creative and innovative programs that contribute to their success. These Colorado schools join hundreds of other distinguished schools nationwide making a difference for our Title I children.
The schools demonstrate a wide array of strengths, including team approaches to teaching and learning, focused professional development opportunities for staff, and individualized programs for student success, and strong partnerships between the school, parents, and the community. The distinguished schools' stories are especially powerful through the documented student achievement gains that have resulted from their innovations and hard work.
In order to be eligible, schools must meet the following criteria
Poverty rate of at least 35%
Demonstrate high academic achievement for two or more consecutive years
Meet or exceed state criteria for Adequate Yearly Progress in 2010-2011 and have a plan type assignment of Performance or better in 2011-2012 and 2012-2013
The Colorado Department of Education, Unit of Federal Program Administration, Office of Elementary and Secondary Education salute the Title I Distinguished School awardees; the students, staff, families, and communities.
---
2014 Recipients
Exceptional Student Performance Award
Benjamin Eaton Elementary in Eaton School District RE-2
Benjamin Eaton Elementary students have scored high in reading and math consistently over the past five years, with 80% or more scoring proficient and advanced on TCAP reading and math every year since 2009. Perhaps that is a testament to the fact that Benjamin Eaton teachers agree that they have reasonable class sizes (93%), sufficient instructional time to meet the needs of all students (57%), and time to collaborate with colleagues (71%). The vast majority (93%) agree that they are allowed to focus on education students with minimal interruptions. They feel supported by their administration and the community, partnership with parents, and a relationship of mutual respect with their students.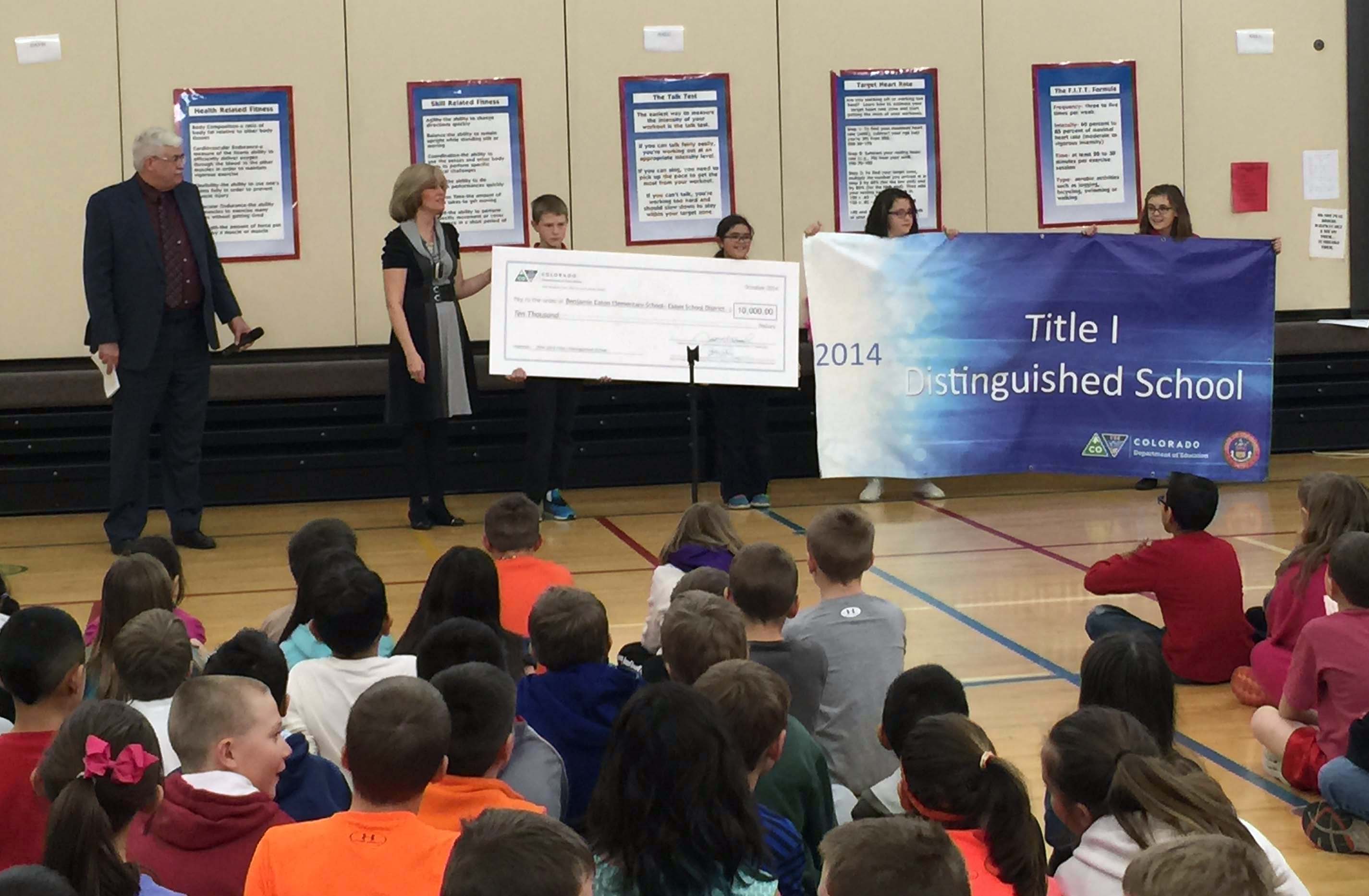 Benjamin Eaton Elementary staff and students receive the 2014 Title IA Distinguished School Award. Benjamin Eaton Elementary students, including members of the Bee Bops student choir, during the Title IA Distinguished School Award presentation ceremony.
Closing the Achievement Gap
Centennial Elementary in Harrison School District 2
Centennial Elementary students have made great progress over the past five years to become one of Colorado's higher performing schools in both reading and math, all with a 90% poverty rate. They went from 49% proficient in reading and 60% proficient in math in 2009, to 80% proficient in both content areas in 2014. Growth has been especially dramatic for their traditionally disadvantaged minority students, who scored 78% proficient and advanced in both reading and math in 2014, up from 45% and 56%, respectively, in 2009. Their economically disadvantaged students and English learners have demonstrated similar improvement.
Centennial Elementary staff is committed to studying effective instructional practices and going the distance to meet students' needs. Teachers and administrators meet weekly to align curriculum, review achievement data and student progress, and make improvements. Centennial offers students a variety of opportunities to meet in small groups to share experiences and learn important problem-solving, life and social skills. Centennial's administration is dedicated to creating a rigorous teaching and learning culture and preparing their Panthers for college. Centennial Elementary staff and students receive the 2014 Title IA Distinguished School Award.