About Teacher Appreciation Week
Colorado Teacher Appreciation Week is May 2-6 during National Teacher Appreciation Week! CDE invites you to participate and give thanks to Colorado teachers for all they do.
During this week, we challenge you to share a post, image or video with a sign thanking a teacher on any social media site using the hashtag #ThankATeacherCO. Tell us why you appreciate teachers or give a shout out to your favorite teacher. Tag a friend and challenge them to also show appreciation to Colorado's deserving teachers.
All photos, videos and messages of thanks that are shared using #ThankATeacherCO will be featured here!
Resources
To help you spread the word about Colorado Teacher Appreciation Week, we've created a number of resources:
Colorado Teacher Appreciation Week video
Share this special message from the 2016 Colorado Teacher of the Year, Leticia Guzman Ingram, or create your own!
Remember to use a sign with the hashtag #ThankATeacherCO and tag a friend to challenge them to also give thanks to Colorado teachers.
---
#ThankATeacherCO Artwork
Facebook Cover Photo:
Twitter Header Photo:
Social Media Images: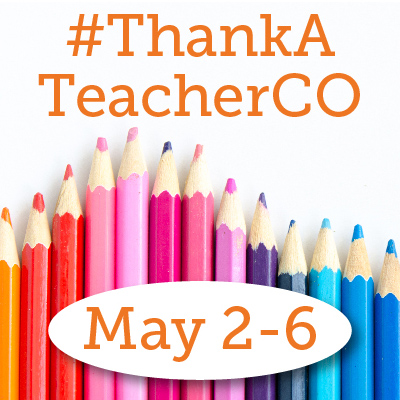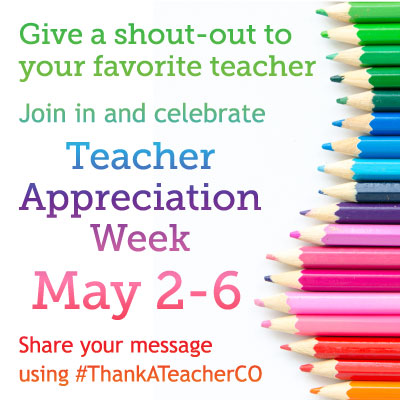 ---
#ThankATeacherCO Downloadable Template
Click here to download, customize and print your own #ThankATeacherCO sign. Don't forgot to take your picture with it and upload it to any social media site using the #ThankATeacherCO in the post!
---
Sample Tweets and Facebook Messages
Sample tweets and Facebook posts have been created to use on your Twitter and Facebook pages. To use, simply copy and paste the text! Please note that these are just suggested tweets and posts to make it easy for you, but you are more than welcome to modify and/or use additional posts.
Sample Tweets:
May 2-4 is Teacher Appreciation Week & your chance to give thanks to CO teachers! Share your photo/video of appreciation w/ #ThankATeacherCO
Give a shout-out to your favorite teacher! Share a photo/video using #ThankATeacherCO May 2-6, tag a friend & challenge them to give thanks!
Happy Teacher Appreciation Week to CO's teachers! Join us and thank a teacher w/ #ThankATeacherCO May 2-6. #edcolo
Share your messages of thanks and include #ThankATeacherCO May 2-6 to show your appreciation for Colorado's teachers. #edcolo
Sample Facebook Posts:
Colorado Teacher Appreciation Week is May 2-6! During this week we challenge you to share a post, image or video with a sign thanking a teacher on any social media site using #ThankATeacherCO. Tag a friend and challenge them to also thank a Colorado teacher. Tell us why you appreciate teachers or give a shout-out to your favorite teacher! #edcolo
Give a shout-out to your favorite teacher during Teacher Appreciation Week, May 2-6! Use #ThankATeacherCO, tag a friend and challenge them to also give thanks to Colorado's deserving teachers. #edcolo
Teachers not only teach and inspire us, they also make a difference in our lives! May 2-6 is Colorado Teacher Appreciation Week! Share a photo or video of appreciation with a sign using #ThankATeacherCO. Tag a friend and challenge them to also give thanks! #edcolo
Happy Teacher Appreciation Week! Don't forget to #ThankATeacherCO May 2-6 by sharing a photo or video. Tell us why you appreciate teachers or give a shout-out to your favorite teacher! #edcolo