Pathways of Progress - Virtual Classroom Opportunity for all ELAT Educators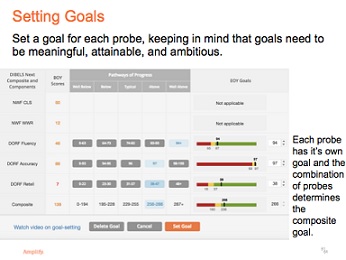 Pathways of Progress is a research-based tool available on the mCLASS Platform for:
establishing individual student progress monitoring goals
evaluating individual student progress and rate of growth
evaluating the effectiveness of support at the classroom, school, or district level
Through the ELAT project we have an amazing opportunity available for approximately 250 educators. We are offering a series of three virtual sessions for educators to join for 9 clock hours. These sessions will be offered in a "flipped" model, meaning that you will watch the Pathways of Progress Modules on the ELAT website and then join a virtual community for deeper conversation and questions. Pathways of Progress mentors will be facilitating these sessions
In session 1 you will learn: (video focus modules 1-3)
How and why specific pathways for students are determined,
Define and understand what are meaningful, ambitious and attainable goals as well as
Explore the logic behind setting goals for your students.   
In session 2 you will: (video focus modules 4-7)
Dive deeper into goal setting looking at real students and their pathways,
Learn to navigate the mClass system pathways tool and further discuss why pathways are set using the Composite Score. 
In session 3 you will: (video focus modules 8-11)
Explore student progress and goal tracking by diving into how this is displayed through a classroom summary report. 
Logistics:
Participants will watch the Pathways modules on their own time and then join a one hour virtual connect with a Pathways of Progress mentor.
The virtual sessions are one hour in length and are offered on various days and times.
You will select one strand to attend with the same mentor across a span of three weeks starting the week of September 21, 2016 and ending on October 11, 2016.
Participants must attend all three virtual sessions for the entire length time to receive a certificate of participation for 9 clock hours.
Please click here to go to the registration page. You will be able to see the times available, read further details and register for a session.