Definition: Fetal Alcohol Spectrum Disorder (FASD) is a descriptive term (not a diagnostic term) used to describe a group of conditions or a range of effects caused by prenatal exposure to alcohol. These effects can include physical issues and difficulties with behavior and learning. Often, a person with an FASD has a combination of these conditions. These conditions can affect each person in different ways, and can range from mild to severe. The most well-known diagnosis within this umbrella category is Fetal Alcohol Syndrome (FAS) – which only represents a portion of persons with effects of prenatal alcohol exposure.

Technical assistance: Fetal Alcohol Spectrum Disorder (FASD) (PDF)
---
Professional Development
Fetal Alcohol Spectrum Disorder (FASD) Overview Webinar
This was a previously recorded webinar training (April 2013). When the player is launched, it is recommended to click on the small gray arrow on the far left to close the "Events Index" window. Then use the bottom scroll bar (in the playback window) to scroll to the right so the image is centered and fully viewed. The file share box is available for the document downloads – there are 3 documents (they are also available via the links below).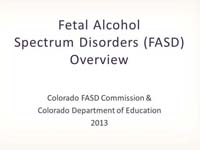 ---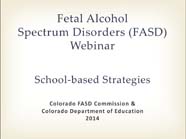 ---
8 Magic Keys - Video
Watch an animated educational video, developed by Anchorage School District, called "8 Magic Keys." Strategies are described by Deb Evensen and Jan Lutke, two highly respected experts in the field. The goal was to provide basic information as well as to demonstrate strategies that support students with FASD. This video addresses elementary, secondary school situations as well as family situations. It is helpful for parents and educators to understand what a child with FASD experiences on a daily basis in a variety of situations.
---
---
Public Service Announcements
To download, you will need a media player that will play QuickTime files such as Apple QuickTime Player or the VLC Media Player.
---
Resources
---
For more information, please contact:
Heather Hotchkiss
Phone: 303-866-6739