Highline Academy Charter School – Denver
Nov. 10, 2008
Highline Academy Charter School is located in an area of southeast Denver where you hardly expect to find a booming school and nearly 500 thriving, energetic students. Highline is in an office park, just down the road from an import auto dealership. The school shares a parking lot with many other businesses and is just across the road from Cherry Creek in southeast Denver.
But once you're in the door and start walking down the long hallways, there is no mistaking the colorful, upbeat school experience available here for all children.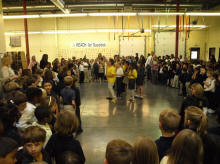 Every other Monday, students "Reach for Success" says it all.
gather for what amounts to an
academic pep rally, complete
with cheers.
My tour guides for the day were seventh-grader Nick Martinez and eighth-graders Naomi Butler and Lexie Sills. We headed straight down the hall to a multi-purpose room where students gathered in a large circle. In the middle of the circle, a group of students led the enthusiastic students in a series of cheers as individual classes reported briefly on topics they are studying and books they are reading. Apparently this happens every other Monday. The event felt like a pep rally for learning and studying—what a great idea.
Left to right (other than yours truly): Highline Academy Charter School board member Kim Easton; students Naomi Butler, Lexie Sills and Nick Martinez; and principal Alyssa Whitehead.
Highline Academy uses Core Knowledge curriculum and throughout the classrooms the expectations seemed extremely high. One of my tour guides, Nick, told me his seventh-grade language arts class is rewriting Shakespeare's "Twelfth Night" using a mix of modern and Old English language—and getting ready to stage the production in a few weeks.
Eighth-grade classroom teacher Sarah Wilczak working with her students.
All students, beginning in kindergarten, take Spanish. In an eighth-grade classroom, teacher Sarah Wilczak was leading a discussion based on a simple question written on the board: "Would you feel proud or embarrassed if someone from your family went to jail for a cause? Why?"
Down the hall, science teacher Ken Kosten was helping students read and decipher the Periodic Table. In that room, a graduate student from the University of Denver was watching attentively. Principal Alyssa Whitehead told me about a partnership with DU that involves 50 graduate students who help teachers by observing students who may require specific intervention plans and who also assist with individual student tutoring.
Even inside this office park building, Highline Academy managed to find room for a nice-size gymnasium.
Principal Whitehead told me that every middle school student has a weekly meeting with an advisor to look at grades, discipline reports and to set goals. She also talked about the school's support for students with special education needs and the school's use of the Response to Intervention model for all students. The school uses "benchmark grading" that provides parents, students and teachers with report cards with 12 to 15 pages of detail and very specific areas that need shoring up for each learner.
Given all the success, it's no wonder that Highline is actively considering expanding to high school years. In the meantime, the school does everything it can to ensure that eighth-graders identify and apply to existing high school programs with high standards. Another of my tour guides, Naomi Butler, knew all there was to know about Denver School of Science and Technology and their phenomenal success rate (you can't get much better than 100 percent) at placing students in four-year colleges.
So, what's next for charter schools like Highline? With President-Elect Barrack Obama's stated goal of improving funding for charter schools, it seems to me the future is good. One thing that successful charter schools have discovered is a way to make sure that the individual needs of all students are addressed—and that often starts with a highly disciplined, calm and productive learning environment. At Highline, it seemed that the students knew they were in a special place and being taught by special people.
On my way out the door, grammar teacher Roberta Ford came running out to make sure I knew she had come out of retirement just to teach at Highline. Now, that's saying something!