Northeast Colorado
By Dwight D. Jones
May 13, 2008

The kindergarten class at Platte Valley Elementary School shouts out word associations.
Platte Valley RE-3 School District
The first thing I noticed as we pulled up to Revere Junior and Senior High School in Ovid was the distinct architecture of the building. A teacher would later point out the building was designed by famous American architect Temple Hoyne Buell. With sloping cut-out details and blue accents, the school was strikingly unique. However, a building that carries even more pride in the district is the house built by the woodshop class that sits temporarily between the high school and administrative offices. After the home is finished it will move to a permanent spot in town.
Next I was just another fan in the stands as I watched student council hopefuls battle it out for new positions. Their speeches were filled with the promise of stocked vending machines. Superintendent Bill Pile pointed out the students were dressed down for the River Challenge – a rigorous bicycling, tubing multi-course event.
We headed over to Platte Valley Elementary where I visited the kindergarten class. They were busy reading and discussing word associations. Tiny hands flew in the air as their teacher asked for words similar to "stalk." For a four-day week district, with Mondays off, the students were focused and attentive.
Julesburg RE-1 School District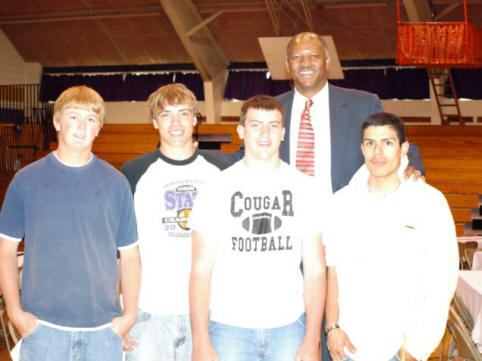 In Julesburg, a gathering of champions - the reigning boys basketball state 2A winners.
I was quickly greeted by co-superintendent Mary Rice and the school board president Dorothy Woltemath. I'm sure Mary's enthusiasm hasn't wavered in her 28 years with the district. Her energy was infectious. The entire K-12 student body gathered in the gymnasium for a special assembly. The marching band played many songs I recognized from high school, and I was given the chance to express my appreciation to them when I addressed the student body. Kindergarten student Jazmin Ramos presented me with a cougar mug and T-shirt. Then I shook hands with every student in the audience, met student body president Erin Langmacher and posed for a photo with the boys basketball state 2A championship team.
Holyoke School District RE-1J
Superintendent Stephen Bohrer introduced me to new elementary Principal Jennifer Boettner, who applauded her fantastic teachers for the school's student achievement. We stopped in at Claudia Koberstein's second grade classroom. The students wiggled in their seats, apparently ready for summer break. In the kindergarten classroom, teacher Drew Peregoy was coaching Tori Race in writing.

New Holyoke Elementary School principal Jennifer Boettner talked about the changes she's made in her school.
Over at the high school, the auditorium was buzzing with activity as the principal made announcements and then introduced me to an assembly of students in grades 7-11. Then I was on my way for a visit to a distance learning two-way interactive television classroom. I was also able to tour the television production studio which broadcasts locally.

A 2nd grade student in teacher Claudia Koberstein's classroom at Holyoke Elementary takes a break from a writing assignment to pose for a picture.
Haxtun RE-2J School District
The first highlight at Haxtun was meeting Superintendent Jim Poole, who will be retiring after more than 40 years in education. After meeting principals from both the elementary and high school, we went on to visit the computer lab. Future Farmers of America members were compiling an impressive slide show for an upcoming competition. An English class quietly watched the movie "Amistad" as part of their unit on slavery and tolerance. Next I had to see the third grade reading class that scored one of the best in the state. For their reward they will celebrate with "pizza in the park," a treat they chose.

I had to shake hands with 3rd grade teacher Amanda Mess (Haxtun) whose students performed so well on their reading CSAP.
Frenchman RE-3 School District
After a warm welcome from Superintendent Jim Copeland (I think it was the Texas accent), we strolled to the auditorium. The choir sang their hearts out on stage with several songs including "Seasons of Love" from the musical "Rent." The superintendent presented me with a cap which I put on for a photo with the girl's championship volleyball team.
I was amazed by the artwork showcased throughout the building - from sculpture, to sketches, paintings to masks. The combined community/school library was another highlight. One of only seven in the state, the library has been combined for 10 years, splitting staff from the community and staff from the school. It is conveniently open after school hours.
These five rural schools differ in leadership, schedule, location, size and demographics, yet all have vibrant, energetic children eager to learn and grow with demonstrated pride in their communities and school.

The Fleming girls volleyball team is number one in the state.