Colorado Legacy Foundation's "Healthy Kids Learn Better" Luncheon and Summit
Nov. 5, 2009
Today I attended the Colorado Legacy Foundation's "Healthy Kids Learn Better" Luncheon and Summit at the Hyatt Hotel in downtown Denver. This was a terrific day-long summit that attracted more than 700 people including many state and local elected officials and business leaders too.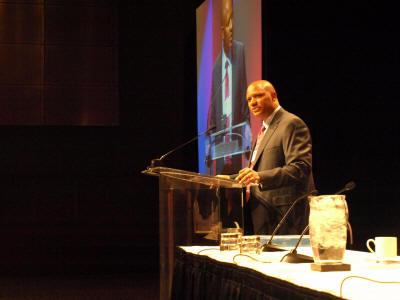 The event offered workshops and panels from teachers, principals, administrators, physical education teachers and nutrition expert. A luncheon program included comments from Gov. Bill Ritter and the announcement of the Commissioner's Choice Awards, given to 11 school districts and two individual schools leading the charge on improving student health and wellness.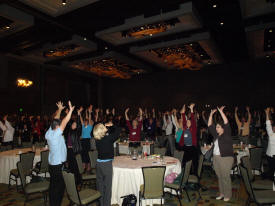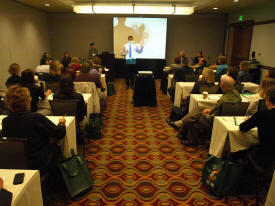 Schools are ideal settings for developing healthy habits that last well into adulthood and as the award winning schools and districts made clear, it is possible to improve the quality of the food that students are provided and to create more activity and movement throughout the day to keep students fit.
The turnout at the day-long summit included representatives from more than 80 school districts representing 82 percent of all students in Colorado. Clearly, districts and schools understand the correlation between student wellness and student achievement!

The award winners announced today were all "caught in the act of doing good," as Legacy Foundation executive director Helayne Jones described it. None of the districts or schools nominated themselves.
The award winners were:
Durango School District for a district-wide plan that covers wellness, nutrition and physical activity. Special teams at all 11 schools oversee and evaluate their progress in health and wellness.

East Grand School District in Granby, which is taking steps every day to make sure students are fit and healthy. All elementary and middle school students participate in physical activity every day, including some movement in the classroom
Academy at High Point K-8 Charter in Aurora for placing strong emphasis on wellness as an essential component of the school culture. At school, a snack policy specifies only fresh fruits, veggies and water.
Denver Public Schools, which is leading with a quality and breadth of health initiatives. DPS was one of the first districts in the state to tackle junk food in schools.
Boulder Valley School District, for reinventing school lunches by eliminating all highly processed, artery-clogging foods.
Pueblo School District 60, for strengthening its school breakfast program, reducing tardiness and improving student attendance.
Las Animas School District, for leading a major community campaign to improve food choices and improve lifestyles in the district.
Garfield School District in Rifle, for setting the nutritional bar to an all-time high. The district provides meals cooked from scratch as much as possible and focuses on service whole wheat breads, brown rice, fresh fruits and vegetables.
Poudre School District in Fort Collins for expanding the role of physical education, part of the district's overall wellness policy.
Gunnison High School in Gunnison for offering out-of-the-ordinary outdoor education courses and lots of hands-on physical activity options.
Adams County School District 14 in Commerce City for partnering with Community Health Services to run five clinics across the district. In September, a new, full-scale health clinic opened at the state-of-the art Adams City High School to serve 1,600 students.

Montrose County School District for building a school-based health clinic two years and a second clinic is in the works. The clinics are part of a broader outreach plan to support health and wellness in the community. The clinics are serving about 200 students every month.

Douglas County Schools for demonstrating leadership with workplace wellness, striving to become the healthiest school district in the United States by 2015. The district has created a five-year strategy that launched an employee-approved comprehensive wellness plan and a new health benefits plan.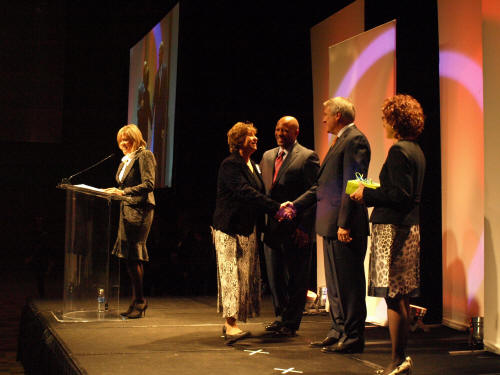 Congratulations to all 13 winners for taking on these important issues for the health and well-being of all students.

Thanks also to the Legacy Foundation for organizing a meaningful and inspiring day to continue to spread the word.