Jan. 27, 2010
Today I visited Aurora Central High School to learn more about the UC-Denver Professional Development School Network. There are 28 schools in six metro Denver school districts participating in the Professional Development School (PDS) network. Other participating districts are Adams School District 12, Adams School District 14, Denver Public Schools, Jefferson County Schools and Mapleton Public Schools.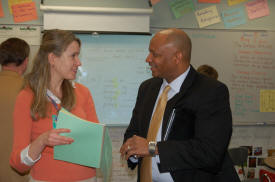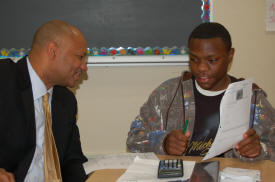 The program is taking a new approach to teacher preparation and focuses on urban education. The idea is to support teacher candidates with professors who visit school sites, site coordinators (similar to an instructional coach), a clinical classroom teacher with strong instruction practice who co-teaches and provides mentoring opportunities for teacher candidates and a partner principal who works collaboratively with all key plays to support school priorities and enhance student and teacher learning.
The program allows for close integration of university coursework with internships and emphasizes co-teaching throughout the internship experience.
It's an impressive concept and appears to be working well. Aurora Central High School is in its fourth year in the network and at least 12 former teacher candidates are now on staff, some in leadership roles.
We visited classrooms and instruction in literacy, math, social studies and English Language Acquisition, and then chatted with current teacher candidates, clinical teachers and former teacher candidates.