You are here
Colorado Teacher of the Year - 2001
Joan Kniss
English, Grades 9-12
Brighton High School
Brighton School District 27J

Joan Kniss
Brighton High School
"In order to strengthen and improve the teaching profession, I have to start with my own classroom, then work within the district and local community." This quote from Joan Kniss shows the depth of involvement she demonstrates as a teacher.
Joan, an English teacher at Brighton High School, works at all these levels to improve both the skills of her students and her ability as a professional. Joan also shares her expertise on many levels. As a teacher on special assignment, Joan developed standards in all academic areas for her school district. She has led district literacy and writing teams, as well as holding various offices in the Brighton Education Association. Joan is an active member of the National Council of teachers of English and the Colorado Language Arts Society and has presented at regional conferences.
It is in the classroom, however, where Joan finds the greatest reward and accomplishment. Joan's principal, Michael Campbell, says that she "consistently goes above and beyond when trying to meet the needs of the students in her class as well as her peers both in the high school and throughout the district." Her classes revolve around engaging and relevant activities that involve her students in their own learning process. One of her students said of her, "Mrs. Kniss reminds me of a chef who can cook without measuring cups and everything comes out perfect."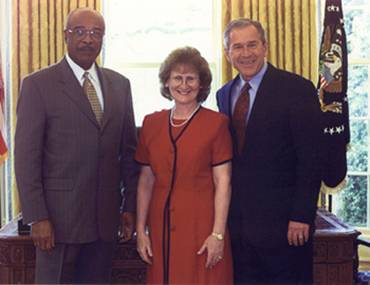 Secretary of Education Rod Paige, Joan Kniss, President George W. Bush
The White House Oval Office, April 23, 2001
For additional information about this program please contact Kim Burnham at: Burnham_K@cde.state.co.us.