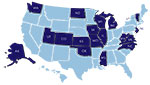 CoAlt: DLM
The Dynamic Learning Maps (DLM) Alternate Assessment program is designed to measure what students with significant cognitive disabilities know and can do. 
Manuals and additional information for this assessment can be found on Colorado's DLM page at http://dynamiclearningmaps.org/colorado 
Colorado is a member of the Dynamic Learning Maps (DLM) alternate assessment consortium. DLM is a multiple-state consortium that is developing a computer-delivered alternate assessment. The DLM assessment program is designed for students with significant cognitive disabilities for whom the general education assessments, even with accommodations, are not appropriate. Students must meet the Participation Guidelines to participate in this academic assessment.
DLM is developing an end-of-year assessment that will replace the CoAlt: Reading, Writing and Mathematics assessments. The CoAlt DLM assessments of English Language Arts and Mathematics are being administered for the first time in the spring of the 2014-2015 school year.
Colorado is participating in DLM in the year-end (YE) . In the year-end model, districts have the option to use instructionally embedded assessments during the year; however, these scores will not be used for accountability. In late spring, all students who qualify for the alternate assessment will be assessed on the same alternate standards. Scores for accountability are only based on the spring assessment administration.
---
Colorado Data Supplements
Colorado Data Steward manual supplement
Colorado Invalidation procedure   updated 6/18/15
---
KITE Educator Portal Quick Reference Guides
All the information on these Quick Reference Guides can be found in the DLM Manuals.  These were created to support commonly used tasks in the KITE system.
---
DLM Webinars for District-Level Staff
Recorded webinars from the Spring 2015 administration for District Assessment Coordinators (DAC), Data Stewards (Data Respondents) and Technology Liaisons (DTC) can be found at http://dynamiclearningmaps.org/content/district-staff-training-resources-ye. 
---
DLM Test Administrator Supports
Dynamic Learning Maps has a webpage designed specifically to provide support for educators who will be delivering the CoAlt: DLM assessment.  This page can be found at http://dynamiclearningmaps.org/content/erp_ye.  
---
DLM Required Training for Test Administration
The Dynamic Learning Maps consortium is in the process of revamping training for the 2015 - 2016 school year.  
All staff involved in the CoAlt: DLM assessment must sign a security agreement.  Staff with a KITE: Educator Portal account will receive and sign their form online when they create their account.  It must be reviewed and electronically signed.  A sample confidentiality form has been created that districts may use for other staff who may be in the room while the DLM assessment is administered.   
---
Extended Evidence Outcomes
Students who qualify for alternate assessments require extensive, direct instruction and substantial supports. They are learning academic content aligned to grade level content standards but reduced depth, breadth, and complexity. These standards are called the Extended Evidence Outcomes (EEO) of the Colorado Academic Standards. The Colorado's EEOs were unanimously adopted on August 3, 2011, by the State Board of Education.
For more information on EEOs, please see the standards webpage.