Our Mission
The Office of Culturally and Linguistically Diverse Education provides support to Colorado school districts, schools, and educational leaders in the academic, linguistic, and social-emotional challenges and opportunities of culturally and linguistically diverse students to ensure equitable access to grade level standards and ensure a well-rounded education.
Title VII- Indian, Native Hawaiian, and Alaska Native Education
The Office of Indian Education (OIE), located in the Office of the Under Secretary (OUS), was created in 1972 under the Indian Education Act. The No Child Left Behind Act of 2001 amends the Indian education programs in OIE as Title VII, Part A of Elementary and Secondary Education Act. The Federal legislation focuses on the education of American Indians, Alaska Natives and Native Hawaiians for preschool to graduate school.
Title VII is designed to ensure that American Indian, Native Hawaiian and Alaska Native students meet challenging state academic content and student academic achievement standards, as well as meet the unique culturally related needs. 
See the complete text of the NCLB statute.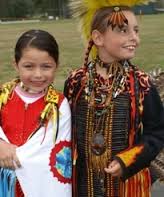 Getting Started:
Annual Performance Report (APR)
Resources:
Post-Secondary Resources
For Additional Information Contact:
Georgina Owen
Title VII Coordinator
Owen_G@cde.state.co.us
720-648-0482