Interchanges and Snapshots
Below is the list of Interchanges and the collections/snapshots they represent. The last column represents the data files required to complete the collection/snapshot.
UPDATE: CDE will be modifying the Safety and Discipline to collect data at the student level for the 2014/15 school year. Therefore, the SDI collection will run through ADE one additional year. Therefore, ADE will officially close on July 31, 2014.

*Note: These files come from the Statewide IEP Data System.
Data Entry Methods for getting data into Pipeline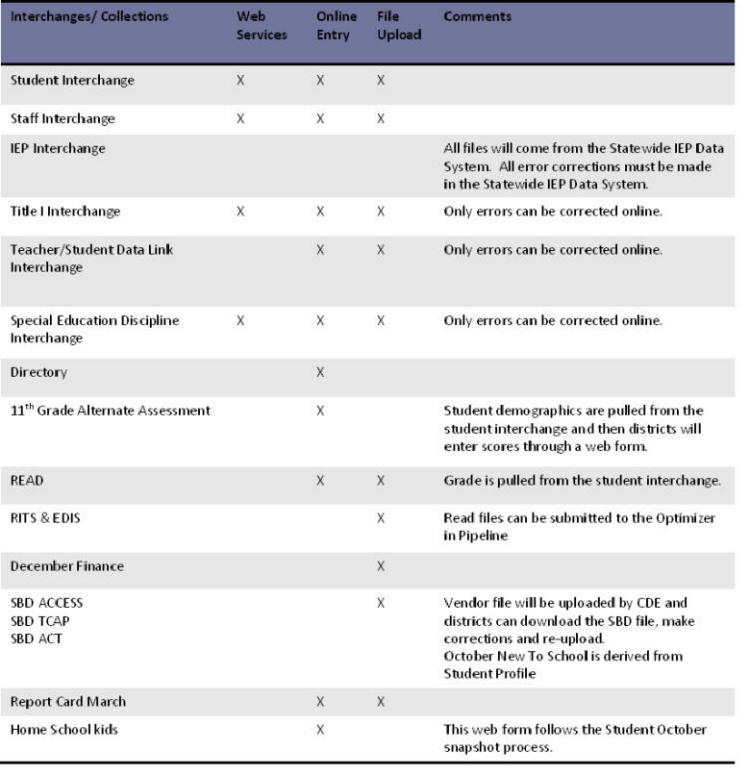 Piloting Data Pipeline
CDE will pilot the Data Pipeline in two phases. Phase I will consist of 3-5 districts and will pilot anywhere from one to three months depending on the complexity of the collection. Once Phase I is completed, Phase II will begin. This phase will expand the number of districts and continue through the summer of 2013 in preparation for full implementation in September 2013.
The intent of the piloting period is for districts to learn and become proficient at the Data Pipeline as well as identifying new processes that may need to be in place for the transactional approach CDE is taking.
Retiring of ADE
For those collections that are open year-round (Directory, RITS Batch, EDIS Batch) they will officially open in Data Pipeline on July 1, 2013. All other data collections will begin in Data Pipeline on September 1, 2013.
All collections that open in the existing ADE system in 2013 will also close in the ADE system. For example, Student End of Year will open in ADE around May 2013 and close in ADE around November 2013. At the same time data for the new collections will also be submitted in the Data Pipeline beginning September 1, 2013.
UPDATE: The Safety and Discipline collection will run through ADE one additional year due to CDE analyzing the feasibility of aligning the collection with the Special Education Discipline snapshot. That would mean collecting the data at the student level for special education and general education. Therefore, ADE will officially close onJuly 31, 2014.
Below is the diagram showing the piloting activities leading up to their retirement of ADE.
Data Pipeline System Roles
| | |
| --- | --- |
| Role | Description |
| CDE Data Governor | The CDE Data Governor's main role is to manage master data, define datasets, and manage categories and codes. |
| CDE Admin | The CDE Admin's main role is to create and maintain file types and to assist LEAs through the data submission process. CDE Admins will be able to see the errors an LEA is encountering both on-screen and via reports. This role can edit LEA data, and has access to all LEA functionality except LEA-level data sign-off. Typical users of this role will be within the Information Management Services unit. |
| CDE Data Collection Steward | The CDE Collection Steward's main role is to monitor LEAs through the data submission process. CDE Admins will be able to see the errors an LEA is encountering both on-screen and via reports. This role only has read access to LEA data. Typical users for this role are from the Program group. |
| LEA Approver | LEA Approver's main role is to provide final sign-off for an LEA's data. This role also has all the permissions of the LEA Submitter role. |
| LEA Submitter | The LEA Submitter's main role is to upload data for a dataset and to make corrections to that data. |
| LEA Viewer | The LEA Viewer's main role is to view an LEA's data. This role will not have any write access. |
Contact: Data Pipeline Support at datapipeline.support@cde.state.co.us